In November Politics Plus declined in all categories, because I was ill and am moving.
Here is our latest summary: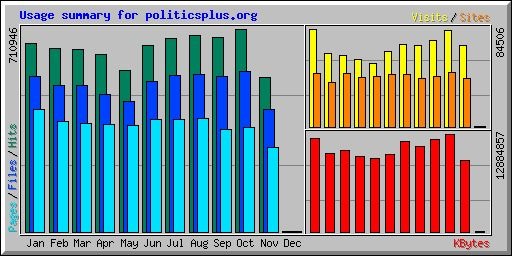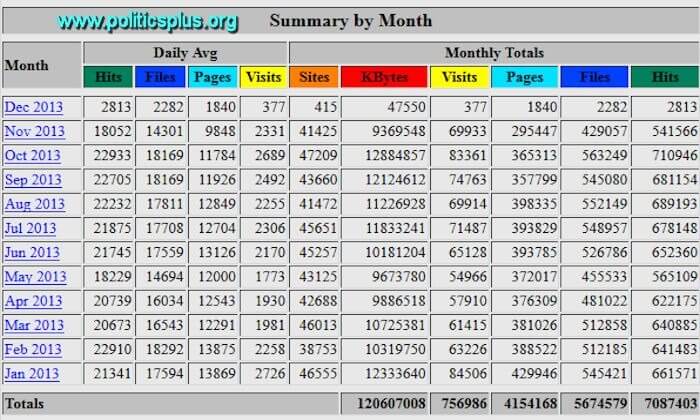 In the monthly totals, a Site is any website from which someone accessed our server, a Hit is every access attempt to our server, and a File is every access attempt to our server that returned data.  The difference between Hits and Files is from access attempts that were sent in error or damaged in transit and failed attempts by hackers, spammers, phishers, and Republicans to access the back end and take control of the site.  Any questions?
Here is our latest Clustrmap:

Our map was archived in February, and what you see is still from March 1 to October 20.. as they have not updated it.
Here are the top fifteen commenters for November.  There are extras because there is a tie.  I remembered and copied them off in time.  I don't count, as I'm the resident big mouth, and I try to reply to almost every comment, except replies directed at someone else.  Those who leave their URLs in their comments, also get linkey-love here.  If you have a blog, news page on Care2, etc, you might want to put the link in the URL field when you comment.  That way, people interested in your comments can follow you there.
Patty (110)

Rixar13 (69)

Lynn Squance (64)

Joanne D (49)

Pat A (44)

SoINeedAName (30)

Edie (26)

misskitty (25)

Edith Belcher (18)

Terrie Williams (15)

Karen Chestney (13)

Yvonne White (12)

Arielle (10)

Howard Brazee (4)

John Dasef (4)

Steve (4)
Normally I would have much more for you, but I am still in minimal moving mode.  Thank you all for all you do!