In January, Politics Plus was up from December in every category except page views.  I'm pleased to provide a full report for the first time since before I lost my leg.  It's a long climb back.
Here is our latest summary: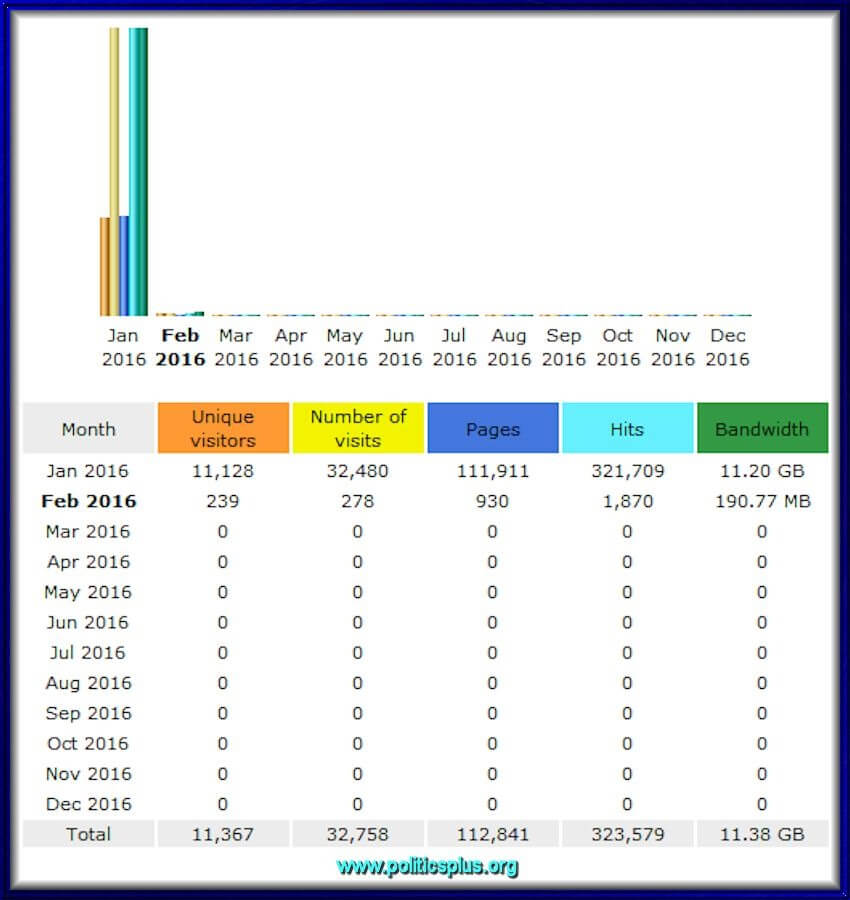 Data from January 2016:
Reported period

Month Jan 2016

 

 

 

 

First visit

01 Jan 2016 – 00:00

 

 

 

 

Last visit

31 Jan 2016 – 23:59

 

 

 

 

 

Unique visitors

Number of visits

Pages

Hits

Bandwidth

Viewed traffic *

11,128

 

32,480

(2.91 visits/visitor)

111,911

(3.44 Pages/Visit)

321,709

(9.9 Hits/Visit)

11.20 GB

(361.42 KB/Visit)

Not viewed traffic *

 

 

 

400,825

467,669

8.34 GB
Data from January 2015:
Reported period

Month Jan 2015

 

 

 

 

First visit

01 Jan 2015 – 00:00

 

 

 

 

Last visit

31 Jan 2015 – 23:59

 

 

 

 

 

Unique visitors

Number of visits

Pages

Hits

Bandwidth

Viewed traffic *

10,329

 

29,156

(2.82 visits/visitor)

79,523

(2.72 Pages/Visit)

241,305

(8.27 Hits/Visit)

3.34 GB

(119.94 KB/Visit)

Not viewed traffic *

 

 

 

240,159

281,038

3.77 GB
I'm most pleased that we are greatly improved, across the board, from last year.
Here is our latest demographic data from Quantcast: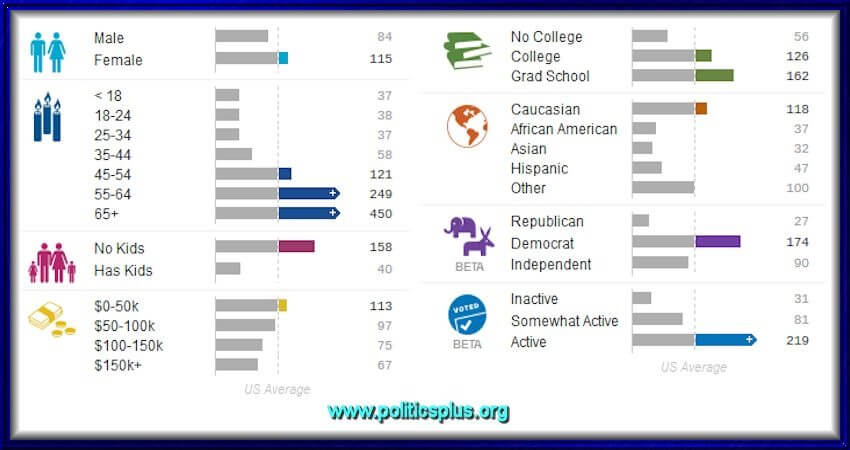 They miss a ton of raw data, but among those they can identify they are a valuable source of information.  We are still mostly older, well educated, poor, and politically active. 
Here is our archived ClustrMap for January only.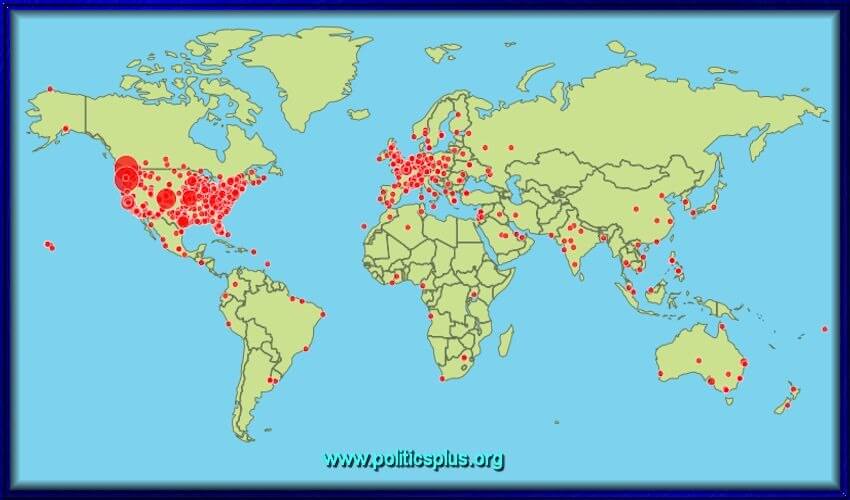 ClustrMap misses a lot of visits, because many visits can't be easily traced to a location.  They have changed their format, since the last time I did this.  When you click the map in the left column, it shows the current month only, no longer the year to date..
Here are our top five articles:
Jane Smiley: Capitalist Pigs 1/17/2010 1,935
Cruz'in Home to Canada 1/14/2016 239
5 Right-Wing Conspiracy Theories as Crazy as Donald Trump's Lie About Muslims Cheering 9/11 11/25/2015 188
Open Thread–1/1/2016 1/1/2016 186
The State of Our Union Is Strong 1/13/2016 169
The count represents only the people who followed an external link to that specific article.  I'm quite pleased that three from January made the cut,  I'm especially pleased that one from one of our new co-administrators made it too.  Congrats Squatch!

  Can you guess which is hers?
Here are our top non-blog/news referrers:
Care2 2,827
Google 1,757
Stumbleupon 351
Google (Images) 136
Here are our top  blog/news referrers:
http://infidel753.blogspot.com
http://bildungblog.blogspot.com/
http://www.oakcreekforum.blogspot.mx/
http://yournewswire.com/
Normally I have included fifteen here, but these four are the only ones with two or more referrals.  This is the one stat that still disappoints me most, because it means that we are no longer a go-to site for bloggers.  However, we seem to have become a go to site for activists!.  Putting blogs' links here increases the ratings of their sites, so this "linkey love" is our thank you for their support.
Here are our top commentators.  As the resident Big Mouth, I don't count.  Those who leave their URLs in their comment headers, normally also get "linkey-love" here.  However  I overslept and did not even get the names off in time.  Kudos and thanks to Lynn, our resident Sasquatch, that we have the names.
Joanne Dixon (166)
jla (144)
Lona Goudswaard (111)
Edie (107)
Lynn Squance (98)
Mitch D. (88)
SoINeedAName (69)
Pat B (65)
Vivian B. (56)
Jerry Critter (26)
Jim Phillips (24)
david (9)
Dotti Lydon (8)
dave c (7)
Arielle (6)
Avril Lomas (6)
There are over 15, because of a tie.  People who submit articles to Care2 can use their submitted news link from there.  These are the people that kept PP alive during my hospitalization. 
We have 315,672 links on other websites.
As of Midnight on February 1, we have 6,203 articles and 74,591 comments.
Kudos to Judi Angell for posting the 74,000th comment.
I recommend using your own avatar. Go to Gravatar.  Sign up using the email address you use to post comments here and upload the image you want to use as your avatar.  Whenever you comment under that email address here or on any WordPress blog (several others too), that image will become your avatar.
In Case you did not know, we are no longer a one-author blog.  Due to my reduced availability I appointed two Administrators, who are also authors.  They are Lynn Squance, aka Sasquatch or Squatch and SoINeedAName, aka Nameless.  I also appointed two more Authors.  They are Judi Angell, aka JL A, and Joanne Dixon, aka JD.  Please Join me in praising and thanking all four for a job well done.
I have never really spelled out our policy on links.  We do not embed links to extreme Republican websites, like Faux Noise or World Nut Daily.  However I leave an editors note when I delete such links, so readers, who wish to follow them can click through to the source article.  I also remove topical links.  Finally, I blank the target on all links, so they open in a new tab or window.  Please do so, or if you commonly leave links and don't know how to blank the target, please say so.
To be clear, we've had some weak months, and that is not your fault in any way.  The  cause was my three month trip to the hospital.  With help from our new administrators and authors, we shall continue our new upward trend and overcome right wing insanity one day at a time.
Thank you for all that you do, here and elsewhere.  You are why we are here!