Here are the results of our What Republican Candidates Suck poll.  Politics Plus Polls are not scientific, because those who respond are not balanced according to demographic categories.   Therefore, we do not accurately reflect the makeup of the US population.  Nevertheless, our polls are often both accurate and indicative of the nation's view.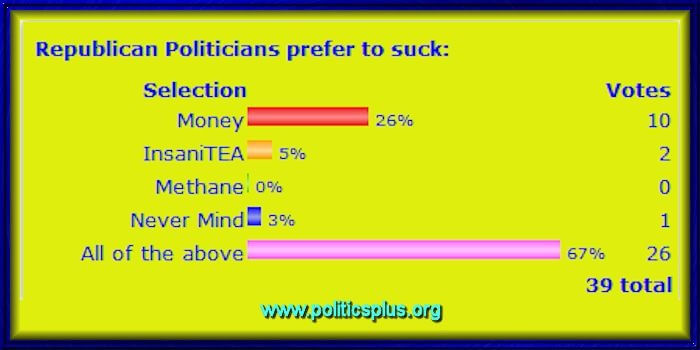 And here are your comments:
Showing comments 1-9 of 9.

Posted by Lynn Squance  September 12, 2014 at 2:57 pm.  

 

I went with "Never mind" because IMO that encompasses all the rest. Those behind "Never mind", the Kochs, have a handle on doling out the money in copious amounts to the point of obscenity, and taking in methane through Koch Industries and farting out the excess as their infectious brand of insaniTEA.

True the Kochs are not the only ones doling out the doe, but they are certainly prolific.

 

Posted by mamabear  September 7, 2014 at 8:05 am.  

 

Well all the above is almost all they have been doing for yrs. But one seems to be on top of the list since 2008 and that would be InsaniTEA. I must say doing a wonderful job. After all it is the only thing they are good at. "Draining the country".:(

 

Posted by Patty  September 7, 2014 at 1:58 am.  

 

I had to vote money because that is the equivalent of Koch-sucking.

 

Posted by Phil-p  September 2, 2014 at 2:36 am.  

 

"All of thew above" merely is a reflection of the attitudes of most Republican and many Democratic politicians who rush suck up the leavings and hand outs of banks, corporations and special interests in exchange for their legislative influence and votes. The old motto: 'What's good for GM is good for America" is so true for the politicians of today and ever so disastrously wrong for the environment and citizens of this earth.

 

Posted by Yvonne White  September 1, 2014 at 10:08 am.  

 

RepubliCON's new meme: You can never be too rich or too apathetic towards the 98%! ;

 

Posted by Joanne D  September 1, 2014 at 4:57 am.  

 

"Never Mind!" is basically the same thing as money, since mucho moolah comes from sucking that. I tried flipping a coin between the two and it stood on edge. InsaniTEA – Republicans don't need to know what something is to be sucking it. Nor do they need to admit where it comes from, hence also methane. I just went with all.

 

Posted by Arielle  September 1, 2014 at 2:35 am.  

 

I said money, too – I'm curious to see just how much money is ever enough…. Power is in there as well. They are real vampires just sucking the power and money out of everything and anything….

 

Posted by gene jacobson  September 1, 2014 at 12:49 am.  

 

Despite the total for all of the above, with which I almost went, as I thought about it, for at least 7 seconds, I realized Republicans don't know what Insanitea is, nor Methane (if they do, they deny it) and in that case Never Mind is still Gilda Radner's province, leaving me with the one thing I do know they care about – Money. Everything else flows from that for them. Money – theirs, ours – which they intend to make theirs and give to the 1%. The ones who will never see the pearly gates because they can't fit through the eye of a needle. Or understand what lack of money feels like, never having the experience themselves and being completely sociopathic they have no empathy either. So, yes, Money is the root of all Republicans.

 

Posted by Edie  August 31, 2014 at 4:01 pm.  From 98.159.143.x  Report Abuse 

 

I see I am voting with the majority this time.
For well over a year you've been asking for an 'All of the above" choice, which I generally avoid, because they tend to stimulate knees more than brains.  So lets examine the choices.
Republican politicians suck money.  That's a given.  They suck InsaniTEA, since nothing they do or say is sane.  They suck methane, because their heads are buried so deeply between their nether cheeks that methane is all there is to breathe. They suck Never Mind, because the Never Mind Brothers pay them so well to whore themselves to the 0.1%  I rest my case.  All of the above!!
The New Poll. is is on a serious subject.