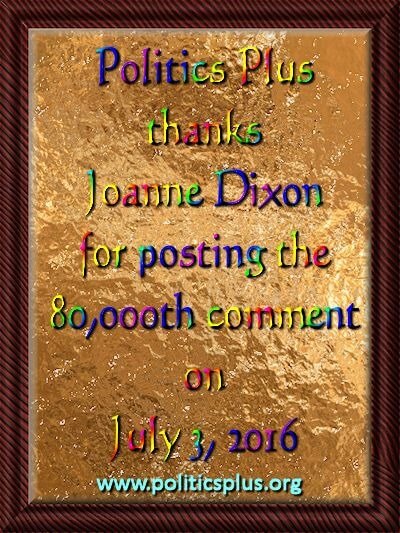 This is Joanne's fourth Big Mouth award.  She earned her first in September 2013, her second in March 2015, her third in May 2015, and I have no doubt that there will be many more to come.
A denizen of Care2, she came to us from there, and is now a regular.  She's super-smart, witty a political junky and an activist for all kinds of human rights.  I have had occasion to correspond with her, and she faces some major issues in her life with exceptional dignity and grace.
Last Autumn I appointed her to a staff position  here and is now a Politics Plus Author. One of her articles in June had more traffic than any of mine did. Please join in swamping her with the praise and kudos she deserves.  Her daily participation makes this a better site.
Because this was an even 10,000th comment, Joanne has won a personalized Politics Plus Big Mouth Award coffee mug I have already customized and ordered it. Joanne should receive it this month, you you'll get to see a Mug Shot (picture) of her with her mug.
If we're really nice to her, perhaps she might harass Nameless for us and make him send his Mug Shot for the 60,000th comment a year bad a half ago.

Woooo Hoooo Erynator!!