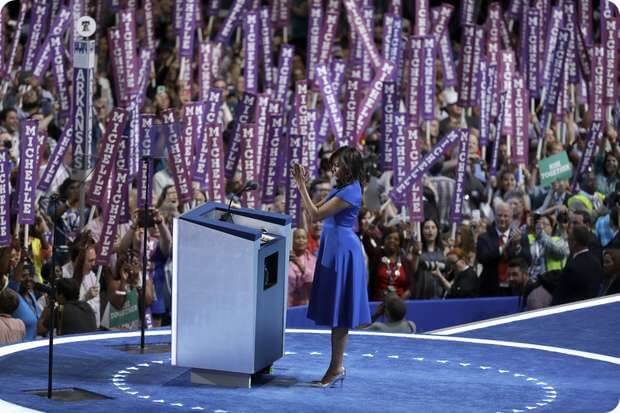 All things considered the Democratic National Convention kicked off to a positive start, despite some poorly coordinated attempts at disruption by regressives, who were acting in opposition to Bernie;s wishes and request.  The night would down to the three main speakers: Michelle Obama, Elizabeth Warren, and Bernie Sanders.  Each of them outperformed all the speakers at the Republican Hate Festival last week.
First was Michelle.
My first response was, "I sure feel sorry for the person who has to follow that!"  Then I remembered why I didn't have to worry.  It was Elizabeth Warren.
Many wanted Liz to be chosen for VP.  I did not.  The job of the VP is to go ONLY wherever told to go, to do ONLY whatever told to do, to say ONLY whatever told to say, and NOT to make waves.  I just don't want that kind of a muzzle put on Liz!  At last Bernie spoke.
Bernie made it clear that he does not intend to give Hillary the nomination by unanimous consent, as she did for Obama in 2008.  I've seen some commentators suggest that Bernie is hurting party unity by not doing so.  I disagree.  Bernie and his supporters achieved a stellar accomplishment to come as close as they did, and they have earned the right to show the world just how close they came.  Casting their votes at the convention should also give his supporters closure.  Then those that truly are his supporters will follow his lead in good conscience and throw their support behind Hillary.  Those that do not, never were his supporters, with the rare exceptions of those few, who are also long term active members of another party and are returning there.