We're all aware of the growing inaugural boycott by Democrats following Traitorous Trump's denigrations of Civil Rights icon, Rep. John Lewis. Apparently skipping Trump's "bigly day" is a common sentiment among true Americans, because there have only been 200 requests for bus parking permits for his inauguration on January 20th. That's one-thousand FEWER than the 1,200 that have been requested for the Women's March on Washington the following day.
So what if he had an inauguration, and nobody showed up? Apparently Donald is so worried about that possibility that he's now gone on Facebook to offer FREE TICKETS to his inaugural! (Personally, I'd hold out for some really good swag to sweeten the pot, if I were a right-winger.)
And, of course, we've been reading about the endless refusals of A-list celebrities to show up and perform for Trump. It's gotten to the point that it has Donald so desperate that he's now going to take matters into his own hands (teeny, tiny though they may be), and has decided to play his accordion for the crowd!
That'll be sure to pack 'em in! A preview: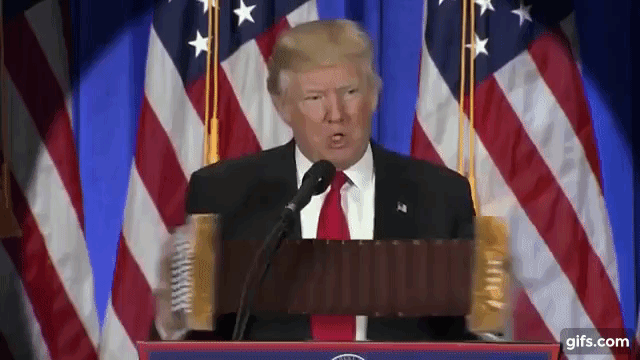 Background Note: I posted this GIF over at DailyKos, and it seemed to tickle folks' funny bones – so I decided to share it here. Especially since there'll be no "Friday Fun" on the 20th because I don't find anything really "fun" about that date.
But I do hope to put something together on a more serious note.
My best friend from medical school sent me a YouTube "Life Accordion to Trump" that prompted my search for the accordion GIF. So here's the video: