Undoubtedly we all had a smile on our faces this past Wednesday when Taran Singh Brar inflated a 30-foot tall chicken that eerily looked like Trump on The Ellipse just south of the White House.  And of course it was no fluke that the bird, nicknamed "Don the Chicken", sported a shiny gold bouffant, cartoonish angry bushy eyebrows, a bright red wattle and hand gestures that all perfectly mimicked The Donald.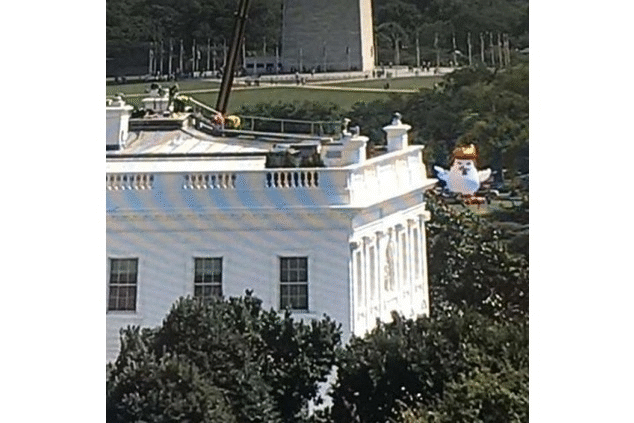 Singh Brar, a documentary filmmaker, had spent weeks analyzing the angles of the numerous permanent cable cameras that are aimed at the White House so they include the Washington Monument in the background to decide on the perfect location that would keep the bird visible to the camera.
Then it took him months of negotiation with the National Park Service and the Secret Service to get the necessary permits to put up the giant chicken on The Ellipse.
And it took Brar days to transport the inflatable chicken from his home in Orange County, CA to DC in his U-Haul that he calls a "mobile hatching facility".
He arrived at The Ellipse at 8:45 on Wednesday, and by 10:00 AM it had gained its own hashtag: #TrumpChicken
And people couldn't resist the opportunity to weigh in at mocking The Donald via Don the Chicken – so let's enjoy a few.
Nothing but respect for MY PRESIDENT #TrumpChicken pic.twitter.com/H9BGnokG19

— Maddie Moore (@mooooregasm) August 10, 2017
Yes, #TrumpChicken is juvenile. But he makes me ridiculously happy. I needed him today. What about you? pic.twitter.com/OZwNFNyQPq

— Bryce Tache (@brycetache) August 9, 2017
Are we sure it's not Barron's birthday and the #TrumpChicken is just a bouncy castle?

— Schuyler Pryor (@SchuylerPryor) August 10, 2017
That's one big mother clucker, but are we sure this is the breast idea? We shouldn't egg him on anymore. #TrumpChicken

— Colleen M (@TheRealMerida) August 9, 2017
I think this Twitter person is feeling pretty cocky, don't you?  Or maybe she has been cooped up too long and decided to just wing it.  I thought for sure she'd comment about the perpetrator running afowl of the law.
But now that I've tossed the Pun Gauntlet down, I'm sure she'll be hatching up a few more to best me.  But I'm not going to get my feathers ruffled about it.
(You really didn't think I was going to pass up an opportunity like that, did you?  Feel free to add a few more in Comments.)
This isn't the first time the inflatable Trump Chicken has made an appearance.  The 30-foot one was at the Chicago Tax Protest Day back in April, while a smaller 10-foot version was at the Capitol.
@juliemason I ssaw the Trump Chicken at the Capitol back in April! pic.twitter.com/F9EU8BWhYM

— Phil Yabut (@philliefan_99) August 9, 2017
In fact the original inspiration for the bird was to mock Trump for being a chicken to release his Tax Returns.  It was designed by a Seattle-based artist and originally used to commemorate this as the Chinese Year of the Rooster at a shopping mall in Taiyuan that I wrote about last December.
Here's Singh Brar explaining what currently inspired him (At least that's what an article said – there's no Closed Caption):
Filmmaker inflates giant Chicken Trump in front of WH pic.twitter.com/Ac9den5uKI

— Sean Langille (@SeanLangille) August 9, 2017
Singh Brar setup a GoFundMe page to raise the $1,500 needed to purchase the bird ($1,300) and buy its insurance.  If you would like one of your very own, you can get the shorter 10-foot model (not counting shipping) on eBay for $500.
And of course you knew someone was not going to let this ready-made pun go by …
Gotta love a giant #TrumpChicken representing a guy overcompensating for a tiny cock

— 🔥Tara Dublin 🔥 (@taradublinrocks) August 9, 2017
And another Tweet riffing on Trump's "Fire and Fury" incendiary rhetoric …
Wowzer's!! This Lil 🐔 Is Gonna Meet #FireAndFury & Become A 🐔 Nugget!!! 😱 #TrumpChicken pic.twitter.com/t32DnpDIpt

— JUSTJENN (@LilJeNn4) August 9, 2017
And I did find what may be the ultimate inspiration from an appearance Trump made in SNL skit way back in 2004 – now try unseeing this!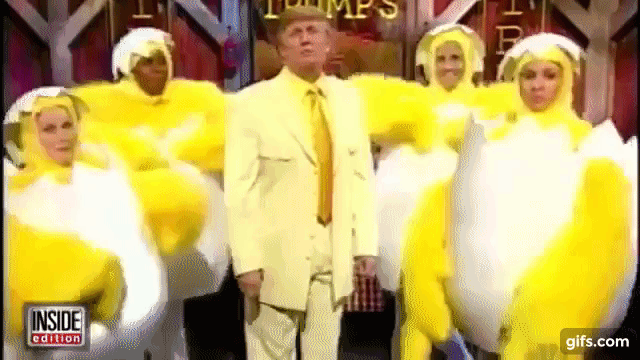 But Taran Singh Brar is not going to rest on his laurels.  He's already working on a bigger project involving multiple blow-up chickens reviewing Russian military weapons around the Washington Memorial to mock Trump's fondness for both Putin, rallies and military parades.
As Singh Brar notes:
"Trump causes so much stress and chaos in people's lives, something cute like this that resonates brings a lot of joy."
AMEN to that, and a hearty "THANK YOU for MAKING OUR DAY BRIGHTER!"
This magnificent Trump Chicken brought to us by Taran Singh Brar, who hopes to organize a "chicken march" someday. pic.twitter.com/PmSbumcl5P

— Jennifer Brooks (@stribrooks) August 9, 2017