I am a few days late on getting this finished partly because of computer issues, and partly because of poor planning. Such is life.
I was coming out of my bank and found myself filled with joy and awe as I gazed upon Canada's red and white maple leaf flag set against a sunny, bright blue sky. I don't remember it quite filling me the same way before. Canada is not perfect — far from it! We experience inequality, discrimination, and social injustice, especially as regards our indigenous peoples. Our healthcare system is good, but improvements are definitely needed. From as far back as I can remember, we are a nation of peacekeepers, and that makes me proud. So let me share a bit about the living Canada that I know and love. BTW, the current flag replaced the British flag, the Union Jack, 15 February 1965.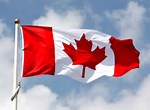 Let me start with our national anthem — O Canada! — like you have likely never heard it before. This version truly represents the multi-cultural nature of Canada. Unfortunately I could not embed the video so just click on "O Canada!" For me, I know the French version but I stumble a bit with the English.
It is fairly traditional to have citizenship ceremonies on or near Canada Day.   Maclean's reported on this year's Ottawa ceremony presided over by hockey great Ken Dryden who is a lawyer and a recipient of the Order of Canada.
I grew up in a very different Canada. In Etobicoke, a suburb of Toronto, and the kids I went to school with, their families had come to Canada usually many generations before, and almost all of them from Europe. Mine had come from Scotland, in 1834. Then as I got older, about 20 years ago, I went back to high school for a year to write a book about education. The school was just west of Etobicoke, in Mississauga, and by this time—1995—the classrooms were like this arena—filled with people from everywhere. …

Other countries have people from lots of places too—like you, I've been to many of those countries—but they have more divisions. More tensions. Why is it different here? Maybe because our history is shorter, maybe because we have so much space and didn't have to live on top of each other. Maybe because we've always had to live with division—our many different Indigenous peoples, later our French and English settlers—we had to learn to be tolerant, accepting, patient, to "live and let live." But maybe too because as Canadians we have never seen Canada as something already fully formed, something that long-standing Canadians created, that new Canadians could only adapt to. Where some people feel fully Canadian, and others don't. Instead, we've always been willing to put Canada on the table in front of all of us, for all of us to share, so that Canada can be, and is, our focus, not what our life was and used to be.

To me, this isn't a multicultural society we are creating in Canada. It's a "multiculture," something that all of us are building, and building every day. That is different all the time. A place that changes us, but that we—all of us, old and new Canadians—change too. A place, and a future, we can all feel a part of.
Many people think we Canucks are the same as Americans. While we share a common ancestry, we are different. Our English is somewhat different, and we are officially a bilingual country — French and English. But let's set one myth to rest right off. We do not all use "eh" at the end of a sentence, although I do occasionally. You may remember the McKenzie Brothers, Dave Thomas and Rick Moranis, a Canadian comedy team from the 1980's. From the Toronto Star:
As closely associated with Canada as the word has become, Thomas insists that "eh" was used frequently in the U.S. back in the 1940s, particularly in gangster and noir films.

"Sooo, a copper, eh?," he says, falling into Runyonesque diction. "It was laced in all the movies."
But the subsequent disappearance of "eh" from common U.S. speech is one of the main reasons it has become so closely associated with Canada, says Iannozzi.
And here's another word that has Americans confused. We say ABOUT. This is a boot.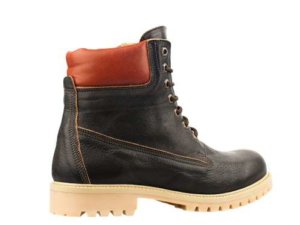 Let's face it: a-boot jokes have always confused Canadians. It's true what they say about accents: everyone has one and you can't always hear your own, but this whole business about Canadians saying a-boot instead of about is just crazy. If anything, we say a-boat or, more accurately, a-beh-out. So, don't say a-boot unless you want to get kicked by one.
And there are more here. Even I, a died in the wool Canuck, have not heard of all of these, but most.
Check out some of the other things non Canucks should never say to a Canuck here.
And then there are our Prime Ministers. Of course everybody knows our current PM, Justin Trudeau. A lot of ladies swoon over him, but he's married with children, and happily. Move over Al Bundy! There is the odd randy among them like John Diefenbaker who is alleged to have been involved with Gerda Munsinger, a reported East German prostitute and Soviet spy. And McKenzie King held séances. Check them out here. For the most part, not a lot of gossip.
But one thing we do share with the US, other than the world's longest undefended border (for now), is family history starting with Friedrich Trump, Donald Trump's grandfather. It seems that Friedrich operated a brothel in the Yukon during the Klondike gold rush days. CBC shed some light on this disturbing Trump development. Fortunately, unlike Ted Cruz, no Trump (Drumpf) was born in Canada.
Trump's grandfather started the family fortune in an adventure that involved the Klondike gold rush, the Mounties, prostitution and twists of fate that pushed him to New York City.

Friedrich Trump had been in North America a few years when he set out for the Yukon, says an author who's just completed a new edition of her multi-generational family biography.

That Canadian chapter proved pivotal for the entrepreneurial German immigrant, says Gwenda Blair, author of The Trumps: Three Generations That Built An Empire.

"It allowed him to get together the nest egg he'd come to the United States for," the author and Columbia University journalism professor said in an interview.

"Whether he could've accumulated that much money somewhere else, in that short a period of time, as a young man with no connections, and initially not even English, is certainly … unlikely."

He'd left Europe in 1885 at age 16, a barber's apprentice whose father died young.

Trump wanted a life outside the barber shop, far from the family-owned vineyards his ancestors had been working since they'd settled in Germany's Kallstadt region in the 1600s carrying the soon-altered surname Drumpf.

He sailed in steerage to join his sister in New York.

Within five years he'd anglicized his name to Frederick; moved to the young timber town of Seattle; and amassed enough cash to buy tables and chairs for a restaurant.

His next big move was heralded by the front page of the Seattle Post-Intelligencer of July 17, 1897, and its exclamatory headline: "Gold! Gold! Gold!"

It described a resplendent scene at the port involving mountains of yellow metal and men returning from the "New Eldorado" with fortunes as high as $100,000.
Read on. Friedrich it seemed knew how to take advantage of an opportunity, and leveraged it to the fullest — liquor and women. It would seem that the Pussy Grabber inherited some of his grandfather's proclivities. (Sigh)
Well, I will end on that note. What else can be said except
Happy 150th Canada!!!