I'm back again with two posts, although one was finished last night and this the second. Do you ever sit reading and then figure you've read this before? The chaos and confusion in the Drumpfenfarten administration is so profuse, constant really, that it is difficult to see where one episode finishes and another starts. Additionally, they all look and feel the same to me — one gigantic blur of Drumpfian stupidity! It is so bad that I put a newspaper down on the floor beside my bed and one of my furbabes peed all over Drumpf's picture! Am I a good mum for teaching my furbabes good values, or what?!
Short Takes
NY Times — President Trump plans to assign a New York billionaire to lead a broad review of American intelligence agencies, according to administration officials, an effort that members of the intelligence community fear could curtail their independence and reduce the flow of information that contradicts the president's worldview.
The possible role for Stephen A. Feinberg, a co-founder of Cerberus Capital Management, has met fierce resistance among intelligence officials already on edge because of the criticism the intelligence community has received from Mr. Trump during the campaign and since he became president. On Wednesday, Mr. Trump blamed leaks from the intelligence community for the departure of Michael T. Flynn, his national security adviser, whose resignation he requested. …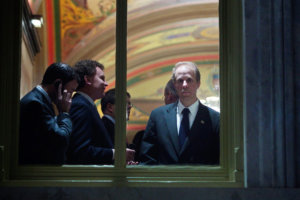 Mr. Feinberg, who has close ties to Stephen K. Bannon, Mr. Trump's chief strategist, and Jared Kushner, the president's son-in-law, declined to comment on his possible position. …
Bringing Mr. Feinberg into the administration to conduct the review is seen as a way of injecting a Trump loyalist into a world the White House views with suspicion. But top intelligence officials fear that Mr. Feinberg is being groomed for a high position in one of the intelligence agencies. …
On an array of issues — including the Iran nuclear deal, the utility of NATO, and how best to combat Islamist militancy — much of the information and analysis produced by American intelligence agencies contradicts the policy positions of the new administration. The divide is starkest when it comes to Russia and President Vladimir V. Putin, whom Mr. Trump has repeatedly praised while dismissing American intelligence assessments that Moscow sought to promote his own candidacy.
Drumpfenfarten appears to only want "yes men" around him, the kind that will tell him what he wants to hear, not what he needs to hear. Feinberg is from Cerberus Capital. An interesting bit of trivia — Cerberus, in Greek mythology, is the multi-headed dog that guards the gates of the Underworld to prevent the dead from leaving. One wonders then what Feinberg's true role might be and just how much power he might have.
CBC — I was in Egypt when President Donald Trump signed the controversial executive order banning travel to the U.S. from seven Muslim-majority countries.
The prevailing feeling on the ground at the time: relief. Egypt wasn't on the list. But some people were concerned: "Are we next?"
Most of the coverage of the ban — which has since been suspended — and its implications has, naturally, been centred on the U.S., where people have been detained for hours in airports and the president continues his crass battle with his own judiciary.
But the way that groups in the Middle East have reacted to the ban is of at least equal importance.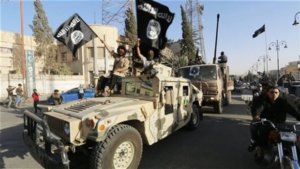 The general sentiment on social media accounts was that the West was waging a war against Islam, and if you had any doubt about that before, Trump's "Muslim ban" was now the ultimate proof. (Radio-Canada)
The 'blessed ban'
As soon as the executive order was announced, I checked the blogosphere of the jihadi community, which prescribes waging a "holy war" against non-believers of Islam. The general sentiment on social media accounts was that the West was waging a war against Islam, and if you had any doubt about that before, Trump's "Muslim ban" was now the ultimate proof.
This is an opinion piece by Mohamed Fahmy, an Egyptian born Canadian citizen who is an award winning journalist. For me, his perspective is important. Fahmy was arrested 29/12/2013 in Egypt on bogus charges along with 2 other journalists. He was finally pardoned on 23/09/2015 and returned to Canada 06/10/2015. You can check out his short bio in Wikipedia. If anyone can understand the minds of ISIS members and provide insight, Fahmy can. Others have said the same thing, but Drumpfenfarten does not listen. He should stop listening to the voices in his head and listen instead to people like Fahmy, people who know what the hell is going on.
The Nation — Trump's administration is so awash in scandal and obvious incompetence that less than one month into his presidency, 46 percent of Americans now favor his impeachment. And Trump's critics, energized and empowered by a movement moment that is eclipsing the emergence of the Tea Party eight years ago, are turning the desperation of his apologists to their advantage. Case in point: After Elizabeth Warren was shut down on the Senate floor as she read a 1986 letter by Coretta Scott King rebuking then-Senator Jeff Sessions, Trump's choice for attorney general, Senate majority leader Mitch McConnell grumbled, "She was warned. She was given an explanation. Nevertheless, she persisted." Within minutes, the King letter had gone viral; within hours, Nevertheless, She Persisted had become a slogan on T-shirts and posters; and within days, Katy Perry was wearing a Persist armband at the Grammy Awards. …
So when they push, the right response is to push back—just as Warren did when she issued the following response to McConnell and company on Twitter: "Consider this MY warning: We won't be silent. We will speak out. And we WILL persist." [emphasis added]
Drumpfenfarten and his sycophants don't hold a candle to people like Senator Elizabeth Warren who speak out, speak up, resist and persist!!
Resist
and
Persist!!!
My Universe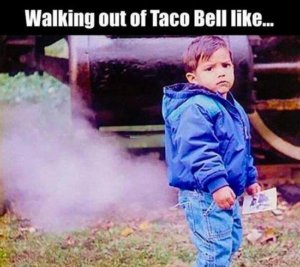 A young TC post chili dinner!