Back in the day when Democrats could actually run as Democrats, we never had to ask questions like the ones we are looking at today: How can we get Democrats elected to offices since a Teflon President has apparently passed on that mantle (now usually referred to as IOKIYAR) to an entire guilty party, which people CONTINUE TO VOTE FOR?
I got an email last week from another Progressive who is running as a Progressive. This one is running for Senator, opposing (Republican) Senator Dean Heller, who, having been elected in 2012 in his own right after having assumed the seat in a Special election, is now up for re-election on 2018.
Here's what Jesse Sbaih has to say (again, fundraising delinked. I will be delinking fundraising regularly when I write about these fols. Heaven knows it's no trick to find fundraising links should the spirit move anyone):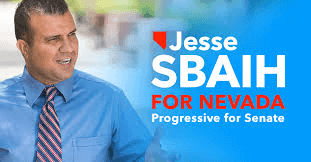 If progressives are going to take back the Majority and block President Trump's hateful agenda, Nevada is simply a must-win.

That's why I'm running a fiercely progressive campaign.

I'm furious that families are barely scraping by on a minimum wage that is far too low. I'm furious that our children can't afford to go to college. And I'm furious that Americans can't afford health care.

GOP Senator Dean Heller won't stand up for what's right. He's propped up by billionaire donors, and takes orders straight from Donald Trump's White House.

In the Senate, I'll fight the dark money seeping into our political system. I'll fight for Medicare for All. I'll fight for you….

Donald Trump has declared an all out war on our American values. Whether you're an immigrant, a single mother, a member of the middle class, or a proud LGBTQ American — Donald Trump has attacked every single person in this great nation.

As an immigrant to and adopted son of this great nation, I am ready to fight back and restore the progressive American dream.

A successful national campaign is a massive undertaking — especially when we're taking on billionaire Donald Trump, corporate special interests, and the Republican fear machine.

Republicans will spend every dollar they have to protect this seat — and maintain control of the Senate.

But I'm determined to go up against them and fight for a better future for my children — for all of our children. Together, we can show every young person out there that a Muslim immigrant can come to this nation and represent the best that America has to offer.
He also has a petition on expanding Social Security up. Like most online petitions, it will take you to a fundraising page after signing, but you can just close it.
Cross posted to Care 2 at http://www.care2.com/news/member/101612212/4054035