I found an alternate delivery service for the time Store to Door is closed.  It's a family business and costs much more than Store to Door, or Safeway.com, but I'd rather pay more than do business with Safeway.com, after the way they treated me.
Jig Zone Puzzle:
Today's took me 3:06 (average 4:59).  To do it, click here.  How did you do?
Fantasy Football Report:
Here's the latest from our own fantasy football league, Lefty Blog Friends.
Scores: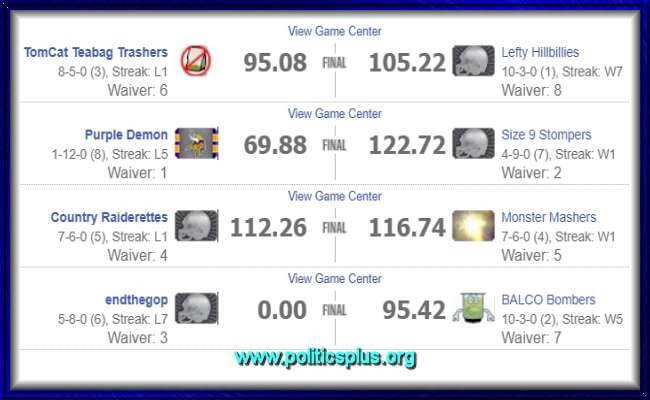 Vivian's tight end reamed my poor kitty butt so bad that my tight end isn't tight anymore.

Standings: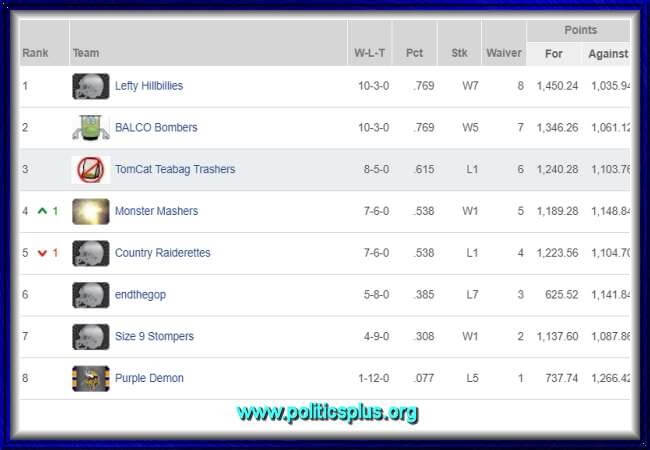 Congrats to Vivian and Seth, who lead the league.  Condolences to Jack, who remains under the Squatch.  The coming week is the last in our regular season.  Playoffs start on week 15.
Short Takes:
From YouTube (Full Frontal Channel): Web Extra: Speaking Of Cutting Taxes For The Rich
Thanks Sam! Bingo! RESIST!!
From LA Times: Rep. John Conyers Jr. of Michigan, the longest-serving member of the House of Representatives, stepped down today after his support among fellow Democrats collapsed amid accusations of sexual harassment by several female employees.
Here is the difference between Democrats and Republicans. We pressure our scandal-plagued members to leave office. Republicans give theirs a formal endorsement from their pervert Fuhrer and extra campaign cash from the RNC. RESIST!!
From The New Yorker: Hoping to put to rest a mystery that has long bedeviled the nation, Donald J. Trump's personal lawyer, John Dowd, revealed on Monday that it is actually his voice that appears on the notorious "Access Hollywood" tape.
Speaking to reporters, Dowd said that the so-called locker-room talk attributed to Trump had actually been carefully crafted by the former reality-show host's legal team and then read aloud by Dowd himself.
Additionally, Dowd said that comments widely thought to have been made by Trump indicating that he believed that Frederick Douglass was still alive were also Dowd's handiwork.
"President Trump was about to say something about whether Frederick Douglass was alive or not, and I stepped in at that moment and said that he was," Dowd said. "I stand by that statement."
Dang it, Andy!! You just gave them the idea!! RESIST!!
Cartoon: