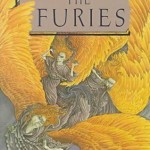 Experts in autocracies have pointed out that it is, unfortunately, easy to slip into normalizing the tyrant, hence it is important to hang on to outrage.  These incidents which seem to call for the efforts of the Greek Furies (Erinyes) to come and deal with them will, I hope, help with that.  Even though there are many more which I can't include.  As a reminder, though no one really knows how many there were supposed to be, the three names we have are Alecto, Megaera, and Tisiphone. These roughly translate as "unceasing," "grudging," and "vengeful destruction."
This was a week when my attention was drawn to two subjects – water, and eminent domain.  Probably everyone here knows who Chase Iron Eyes is, but just in case there are any senior moments, let me say "Standing Rock."
Well, Chase Iron Eyes is now awaiting trial for inciting a riot, the riot being all the protests at Standing Rock over months and involving hundreds of people.  He has asked that this video be shared.  It goes through many of the events leading up to this charge.

There has been one recent victory, and I will quote Chase's email (emphasis mine):
A North Dakota judge has ruled that my legal team is entitled to substantially more evidence from the North Dakota State Prosecutor's office than has been forthcoming in other water protector cases. We will be able to take sworn testimony and demand documents from Energy Transfer Partners and their private, militarized security firm, TigerSwan.

The timing on this ruling is important for all environmental protectors. 84 members of Congress—nearly all Republicans—recently sent a letter to Attorney General Jeff Sessions encouraging him to invoke the domestic terrorism statute to prosecute fossil fuel protesters. These attacks on our fundamental constitutional rights, spearheaded by Donald Trump and parroted by congressional shills of Big Oil, should deeply concern all citizens who value our right to speak freely and demonstrate.
The email provided the link to the petition to sign.  Or you can text as described in the video to get the petition link.
Related, because fracking threatens people's water (as well as the climate) is this case which Bold Alliance and landowners are fighting in Virginia, against the Mountain Valley and Atlantic Coast pipelines.
From the email, written by one of the landowners –
In an extraordinary move, more than 300 Virginia landowners have been sued in federal court by Mountain Valley Pipeline, LLC, which is seeking authority for a "blanket taking" of all of these Virginia families' land via eminet domain for this private company's for-profit fracked gas pipeline.

And on Monday evening, it happened.

At my family's farm, we were officially served with this lawsuit that seeks to take our land through eminent domain for the proposed Mountain Valley fracked gas pipeline.

The emotions are raw and real; jumping from anger to sadness to fear. Landowners across the region are wrestling with feelings of disempowerment.

We're furious that a *private*, *for-profit* company has been handed over the power of eminent domain to drag our family to court seeking to seize a section of our land permanently for a risky, unnecessary pipeline that threatens our water and our climate — and later on, even sell that piece of our land to another private company!
I think everyone here knows what I think of eminent domain, so I see no need to stumble around looking for exotic insults and imprecations now.
Instead I'll move on to another eminent domain case – this one in downtown Atlanta, Georgia.  Now, gentrification is not new to Atlanta.  In fact, the point of this story is that the neighborhood now facing it is the last working class black neighborhood in the city.
The article in the Atlanta Black Star includes a roughly 15-minute documentary clarifying the history of black residential areas in Atlanta.  I won't embed it due to its length, but I'll recommend it.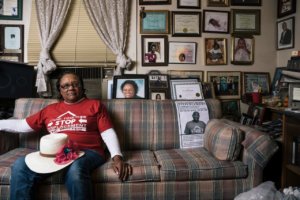 The Reader's Digest version of the current situation is this:
The process the city is attempting to use to take ownership of the house is known as "eminent domain"— the power for governmental entities to take private property for public use. The city claims it needs the house, along with others on the same block in the Peoplestown neighborhood, in order to build a park and pond that will help with street flooding. 

Meanwhile, community members suspect the flooding is being used as a pretext to facilitate private development in the neighborhood.

This process is replicated throughout the US. If successful, eminent domain could become the newest tool that local and state governments could use to accelerate the gentrification and displacement that is already impacting low-income Black and Brown communities.  QQ
Doesn't it all sound familiar?
A 20th century author of detective stories featuring running casts of detectives in three Southern California Police Departments had one of her characters say that all crime was rooted in one or both of two failings – stupidity and cupidity.  These crimes (and they are crimes – the fact that they are being done using the courts does not change that) are clearly due to the latter.  Dear Furies, the Greeks did not assign one or more of you to pursue criminals and crimes of greed, so you will need to divide up the assignments yourselves.  I have confidence in you.
The Furies and I will be back.
Cross posted to Care2 HERE.