It's another busy day for me with lots of planning, scheduling and bookkeeping work to do.  I also ordered groceries from Store to Door.  Tuesday is Saguaro suppositories for Republicans day.  Tell them to open wide!
Jig Zone Puzzle:
Today's took me 3:42 (average 7:09).  To do it, click here.  How did you do?
Fantasy Football Report:
Here are the latest results from our own fantasy football league, Lefty Blog Friends.
Scores: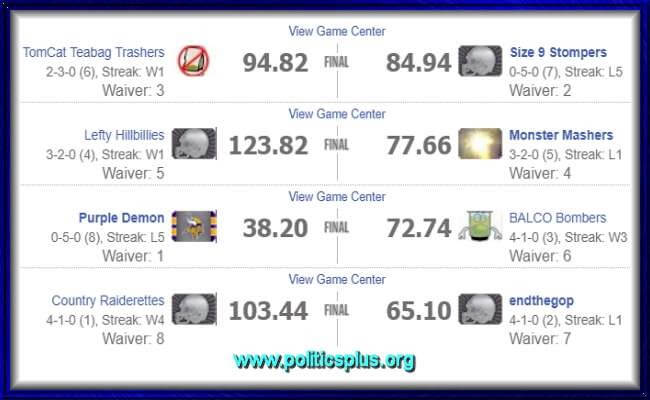 Whew!  I almost became a toe jamb!
Standings: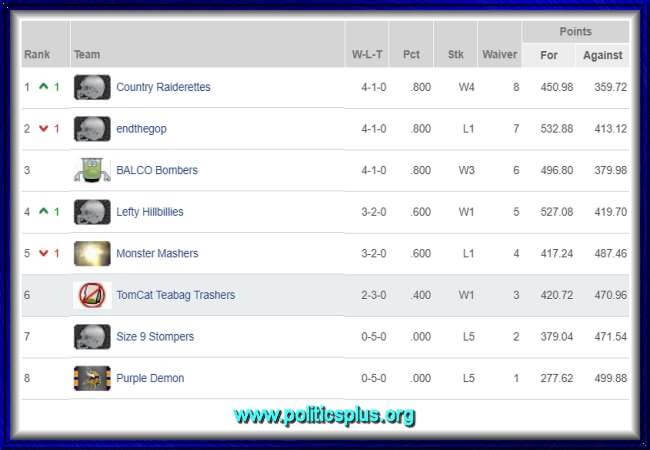 Congrats to Wendy, Pam, and Seth, who lead the league.  Condolences to Squatch and Jack.
Short Takes:
From YouTube (GQ Channel): The Truth About Pence's Despicable NFL Stunt
Into what they will turn this nation, if we don't stop them, is a totalitarian, plutocratic, theocratic, white supremacist Republican Reich! RESIST!!
From The New Yorker: A poll taken after Vice-President Mike Pence made headlines on Sunday with an abrupt early departure reveals that a broad majority of Americans hope that Donald Trump follows Pence's example and leaves early, as well.
In a striking result, the poll shows that Trump's early exit would be approximately a thousand times more popular than the one Pence participated in on Sunday.
While Pence defended his decision to leave early on Sunday by saying that he did it out of patriotism, a substantial majority of Americans agreed that a premature departure by Trump "would be, by far, the most patriotic thing he could ever do for his country."
And while the price tag of Pence's departure on Sunday, estimated by some to be approximately a quarter of a million dollars, raised eyebrows across the country, poll respondents overwhelmingly said that they do not care how much Trump's departure costs, as long as he leaves.
Andy, what can I say? AMEN!! RESIST!!
From NY Times: This past week, reports that Harvey Weinstein had sexually harassed women for years came to light, making it crystal clear that not every woman in Hollywood has had the chance to walk our path. Abuse, threats and coercion have been the norm for so many women trying to do business or make art. Mr. Weinstein may be the most powerful man in Hollywood to be revealed as a predator, but he's certainly not the only one who has been allowed to run wild. His behavior, silently co-signed for decades by employees and collaborators, is a microcosm of what has been happening in Hollywood since always and of what workplace harassment looks like for women everywhere.
In spite of his support for many progressive causes, I hope that he is severely punished for his abuse of women, and is, in the process, given the therapy he needs to learn that women are individuals to be respected, not objects to be used. Republicans have been saying Democrats are hypocrites because we cover-up for Democratic abusers. This is not so. The only difference in my attitude between Weinstein and Resident Pussy Grabber is that there is no need to impeach Weinstein, who deserves to be treated like a Republican, because he is acting just like one. RESIST!!
Cartoon: