My dang printer is on the fritz again.  I think I know what's wrong, that the cable connection jostled loose when Wendy was cleaning.  I think I can work around it until tomorrow night.  Today I'm missing my morning nap, because I cannot print my grocery list, which I usually read to Store to Door from bed.  So I'll just publish and go down for my afternoon nap a bit earlier.  It's a cool rainy day, and I'm thoroughly enjoying the cool air washed clean of smoke.  It's time for Trump to take a vacation in Puerto Rico.  God help everyone else.

Jig Zone Puzzle:
Today's took me 2:48 (average 4:43).  To do it, click here.  How did you do?
Fantasy Football Report:
Here are the latest results from our fantasy football league, Lefty Blog Friends.
Scores:
If Pam had reamed my poor kitty butt any worse, I'd think she was a Republican!!


Standings: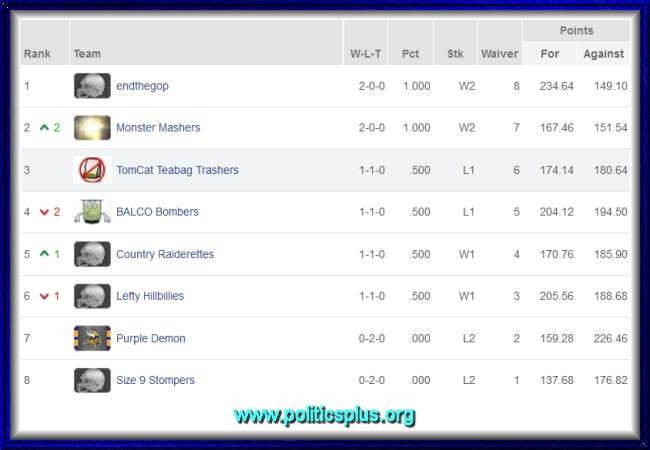 Congrats to Pam and Patty Monster, who lead the league. Condolences to our beloved Sasquatch who STILL has nobody under her BIG feet.
Players, please have your lineup set by Thursday night.
Short Takes:
From YouTube (GQ Channel): Trump, Russia, and the Facebook Factor
If the Fuhrer does resign, as Keith suggests, pseudo-Pence will pardon him very quickly. If both resign, Lyin' Ryan will pardon both. RESIST!!
From The Last Word: GOP gives up on bipartisanship, backs new Obamacare repeal
Sen. Bill Cassidy (R-LA) is pushing a new ACA repeal-replace bill that has gained GOP backing but violates his own "Jimmy Kimmel Test." Fmr. Medicare and Medicaid Administrator Andy Slavitt and Washington Post opinion writer Jennifer Rubin join Lawrence O'Donnell.
If we can stop RepubliCare, with its guaranteed death benefit, one more time, the reconciliation window will be closed for another year. This time, for the worst bill of all, Republicans have set aside ninety seconds total for debate.  Call your Senators!  RESIST!!
From The New Yorker: Robert Mueller is renting a massive warehouse facility in suburban Virginia to accommodate the approximately forty cubic tons of evidence against Donald Trump that the independent counsel's investigation is generating on a daily basis.
Employing over two thousand workers in a warehouse the size of seven football fields, the Mueller investigation has become the fastest-growing sector of the U.S. economy, according to the Bureau of Labor Statistics.
Working twelve-hour shifts, the members of Mueller's evidence-storage team rarely leave the warehouse, where the punishing task of filing mountains of evidence against Trump proceeds around the clock.
Sorry, Andy. I just can't buy that one. The space and staff size you suggest are just tiny fractions of the actual resources needed to store the evidence against Fuhrer Drumpfenfarten. RESIST!!
Cartoon: