I didn't get the sleep I had hoped I would.  It was just to hot and sticky.  Today is the last hot one, before several days of more temperate weather.  Please pardon my brevity.
Jig Zone Puzzle:
Today's took me 2:50 (average 4:30).  To do it, click here.  How did you do?
Religious Ecstasy:

Phew!  They came so close to screwing the pooch that I damn near had a heart attack!  They blocked a field goal with 1 second on the clock.
Fantasy Football Update:
Here are the results from our league, Lefty Blog Friends.
Scores: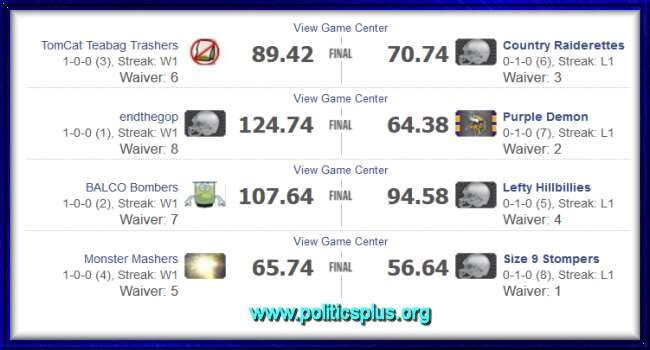 Standings: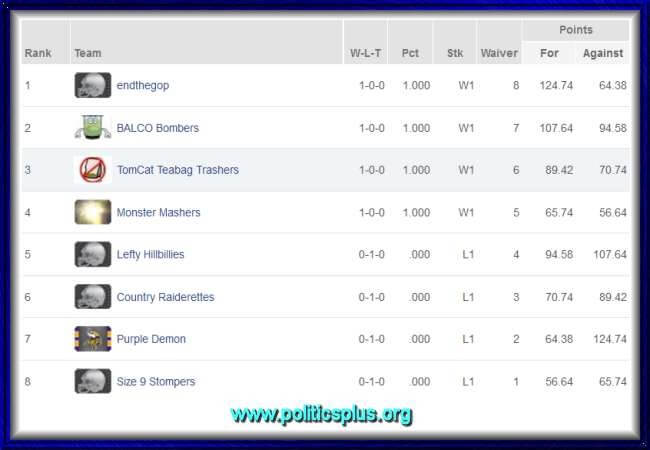 Congrats to Pam and Seth for being in first and second.  Condolences to our beloved Sasquatch, who has nobody under her big feet.  Don't forget to set your lineup by Thursday night.
Short Takes:
From YouTube (GQ Channel): How Did Trump Remember 9/11?
It's obvious enough. His handlers frog-marched him to the microphone to make his canned statement, but without power, profit, or pussy for him to grab, he had no real interest. RESIST!!
From The New Yorker: CBS ignited a firestorm of controversy on Sunday night after it broadcast a shockingly graphic horror program [Bannon] without any viewer advisory.
Millions of viewers who unwittingly tuned in to the highly upsetting program recoiled in revulsion and took to social media to rip CBS.
"It's appalling to think that you would even consider broadcasting such a thing at seven o'clock, when children could be watching," one viewer wrote. "Shame on CBS."
Another irate viewer complained that he was "in total disbelief" that CBS would air such disturbing content with no warning preceding it. "I may never get those nightmarish images out of my head," he wrote.
Dang Andy! They should have included a Barf Bag Alert!! RESIST!!
From Daily Kos: As Hurricane Irma sweeps up the western Florida coast, the Trump "administration" will be wasting no time in demanding … "dramatic tax cuts."
"We will discussing our plan for dramatic tax cuts and tax reform. And I think now with what's happened with the hurricane, I'm going to ask for a speed-up," Trump said at the opening of a cabinet meeting at Camp David. "I wanted a speed-up anyway but now we need it even more so."
If billionaires were injuring their backs carrying excess money to the bank, Republicans would still propose tax cuts that rip wealth from the poor, the middle class, hurricane victims, and especially YOU to provide even more welfare for the 0.1%. RESIST!!
Cartoon: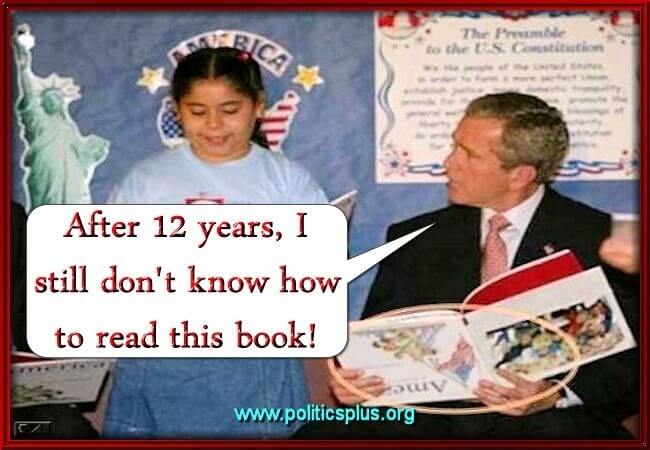 After 16 years, neither does his successor.