It has been a frustrating day for me.  Last night, I unlocked my desk to take my bedtime meds, locked it up, and went directly to bed.  When I got up, I started to prepare breakfast and headed for the throne, but I could not lock my door, because the lanyard with my keys, that I wear 24/7, was not around my neck.  It has to be in my room, because I had never left the room, since the last time  I used it.  I searched for three hours and could not find it.  I finally broke down and called a locksmith to pick and re-key the lock on my desk, so I could take my meds.  That's $255 worth of ARGH!  The Manager gave me the duplicate room keys and a new door FOB.  To make matters worse, 89° may not be 90°, but it's still too stinking hot!  Tomorrow will be better at 80°, but it will take two or three days for the building to bleed off the heat.  TGIF!!
Jig Zone Puzzle:
Today's took me 3:35 (average 4:49).  To do it, click here.  How did you do?
Religious Ecstasy:

The important part was the first quarter and the first half of the second, because both teams substituted liberally after that.  At that point, my Broncos led 10 – 0.  The Bears introduced a rookie QB named Mitch Trobiski.   Watch out world!  Some day that Bear will shit in the woods, and wherever else he wants!
Short Takes:
From Alternet: Stephen Colbert knows exactly where he stands on President Trump's "fire and fury" threat toward North Korea.
"I'd like to go on the record. I do not want the Earth to blow up," the Late Show host said. "That's where my house is."
He described the president's threatening language as being akin to telling North Korean leader Kim Jong-un, "Go ahead, kill everybody. I'll kill 'em deader. Then who wins?"
I found video.
The Fuhrer needs to stop making war decisions from his golf cart. RESIST!!
From Raw Story: President Donald Trump supporter and CNN contributor Jeffrey Lord is facing accusations of promoting Nazism.
According to Media Matters, Lord published an article attacking their organization that misspelled their president, Angelo Carusone's, last name. When Carusone pointed that out, Lord responded with a tweet that simply said "Sieg Heil!" [Nazi delinked], the infamous Nazi salute.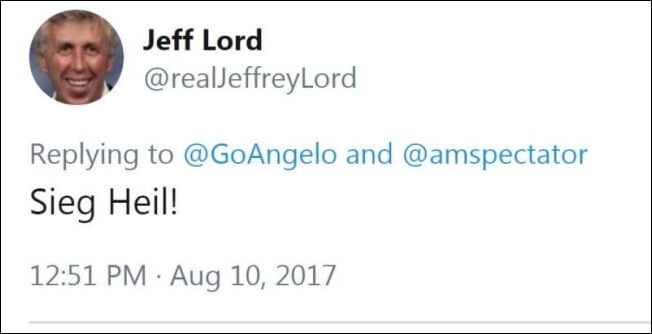 Will CNN ban Bannon too? Please? RESIST!!
From Mother Jones: As President Donald Trump doubles down on his aggressive efforts to locate and deport undocumented immigrants, California's Democratic lawmakers have been drafting a bill that would put new limits on federal immigration authorities' ability to operate in the state. If passed into law, the California Values Act would erect a legal wall between California and Trump's immigration policies. The bill, authored by State Senate President Pro-Tempore Kevin de León, would effectively bar cooperation between federal immigration authorities and California's local, county, and state law enforcement agencies.
Even though the state might be Californicated, this is a great idea. RESIST!!
Cartoon: