Except for a grocery delivery from Safeway.com in the next seventy minutes, I finally have everything ready for tomorrow's cataract surgery.  I have to report at 7:15 AM for 8:30 surgery.  I should be able to leave by 10:30.  When I return, either I will post a Personal Update, or Wendy, who is taking me both ways, will do so on my behalf.  On Wednesday, I plan to post a Personal Update in the morning.  I have to go to Christine's office for a day one follow-up appointment in the afternoon, and Wendy will pick me up from there on the way to my normal shower evening.  Then I'm done with medical mayhem for eight days, god willing.  The groceries came and I have put them away.
Jig Zone Puzzle:
Today's took me 2:33 (average 4:37).  To do it, click here.  How did you do?
Short Takes:
From YouTube (Tree Crowder Channel): Liberal Redneck – (Internet) Freedom Isn't Free
If I wanted crying dwarf porn, I'd watch Republicans in Congress. Demand Net Neutrality! RESIST!!
From Daily Kos: Donald Trump announced his candidacy back in June of 2015, and though he got some mention in other articles, I went all the way to November before I did my first piece entirely donated to Donald.
Sixty million people died in World War II, but fascism won. It didn't win on the battlefield. It didn't win right away. It won because the same fears, the same greed, the same hatred that fueled its growth in the first part of the twentieth century never went away.

The symbols of fascism became anathema, but the causes … went deep. And gradually, slowly, one step at a time, all those vices became first tolerated, then treated as virtues, and then as the only acceptable view.
That was my view of Trump then — the manifestation of how America had grown not just to accept, but celebrate, all the hatred, prejudice, fear, and repression that marks the worst authoritarian dystopias. And the most horrible thing about what's probably the most horrible article I ever wrote, is that all of it fell utterly short of being horrible enough.
Like too many people, I thought "no, we're past that, Americans will never accept this level of racism." I was wrong. I thought "Americans will never tolerate such blatant sexism." Wrong again. I thought "Christians will never hand their banner to a man who openly, proudly, daily shapes his life around vengeance, a man who thinks forgiveness itself is contemptable." I was very, very, wrong.
The author, Mark Sumner, and I seem to have an awful lot of thought in common here. Click through for the rest. RESIST!!
From NY Times: Sometime in the next few days the Congressional Budget Office will release its analysis of the latest version of the Republican health care plan. Senator Mitch McConnell is doing all he can to prevent a full assessment, for example by trying to keep the C.B.O. from scoring the Cruz provision, which would let insurers discriminate against people with pre-existing conditions. Nonetheless, everyone expects a grim prognosis.
As a result, White House aides are already attacking the C.B.O.'s credibility, announcing in advance that whatever it says will be "fake news." So why should we believe the budget office, not the Trump administration? Let me count the ways.
First, this White House already has a record of constant, blatant lying about health care that is, as far as I can tell, without precedent in modern history. Just a few days ago, for example, Vice President Mike Pence made the completely false assertion that Ohio's expansion of Medicaid led to a cutback in aid for the disabled — a lie that the state's government had already refuted. On Sunday, Tom Price, the secretary of Health and Human Services, claimed that the Senate bill would cover more people than current law — another blatant lie. (You can't cut hundreds of billions from Medicaid and insurance subsidies and expect coverage to grow!)
The point is that on this issue (and others, of course), the Trump administration and its allies have negative credibility: If they say something, the default assumption should be that they're lying.
Click through for the rest of this fine Paul Krugman editorial. The only time Republicans stop lying is after someone nails the lid on. Our choice is simple. RepubliCare dies, or we do. RESIST!!
Cartoon: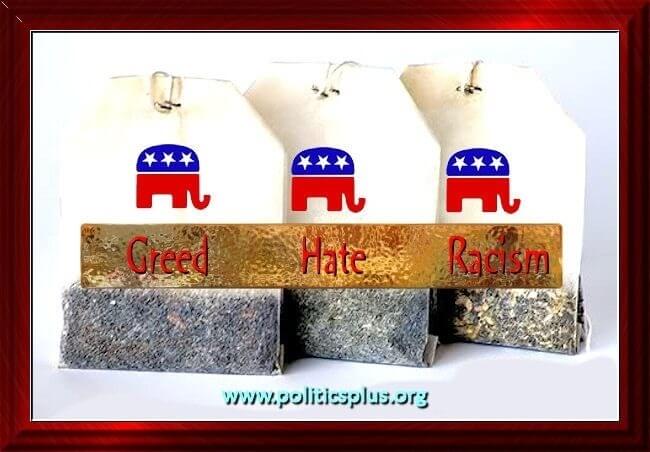 Even though I made this cartoon in 2011, InsaniTEA still comes in the same flavors.