Originally I was going to skip this week because I was planning on heading up to Illinois to do Mom's income taxes. (She actually pulls everything together, but because of her macular degeneration she can't fill in the boxes for the accountant.) She got sick with a bit of a bug and had some vomiting. She's fine now, but I've postponed my trip up to Monday – so I won't have a "Friday Fun" next week.
Since it's that time of year, I'm going to do a reprise of Yosemite's Firefall from a year ago.
Given the snow and rain California has gotten this winter, the natural Horsetail Falls Firefall show that only happens once a year in late February should be spectacular. The opportunity to view it lasts for only about 10 days … and only for 10 minutes each day right at sunset. But boy, when the illusion of "lava" flowing down Horsetail Falls' 1,570 feet (480 meters) face happens – it's breathtakingly gorgeous!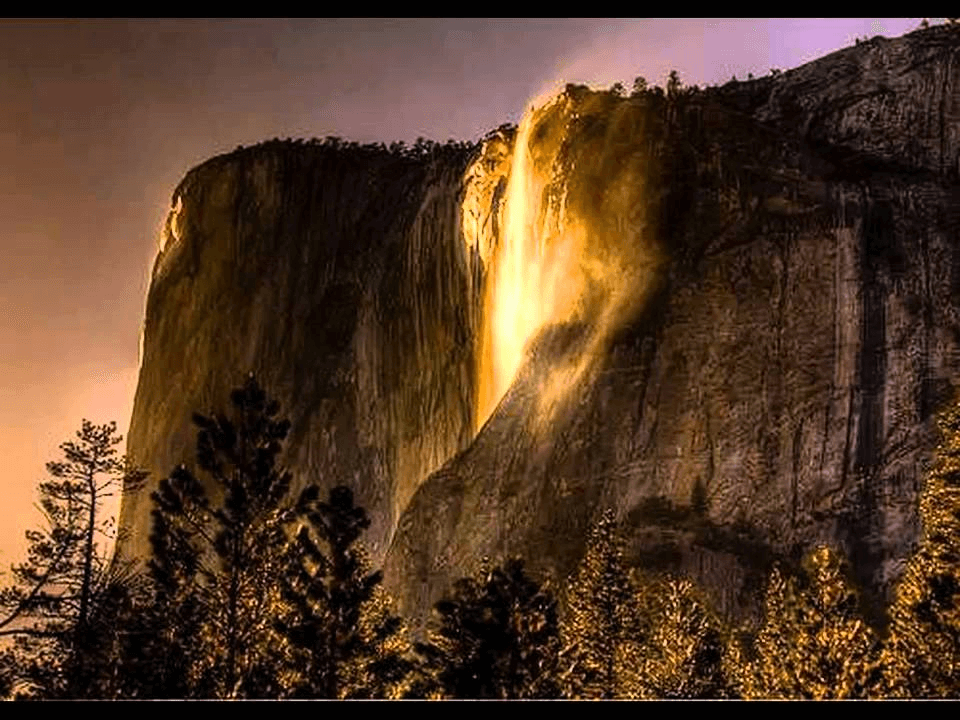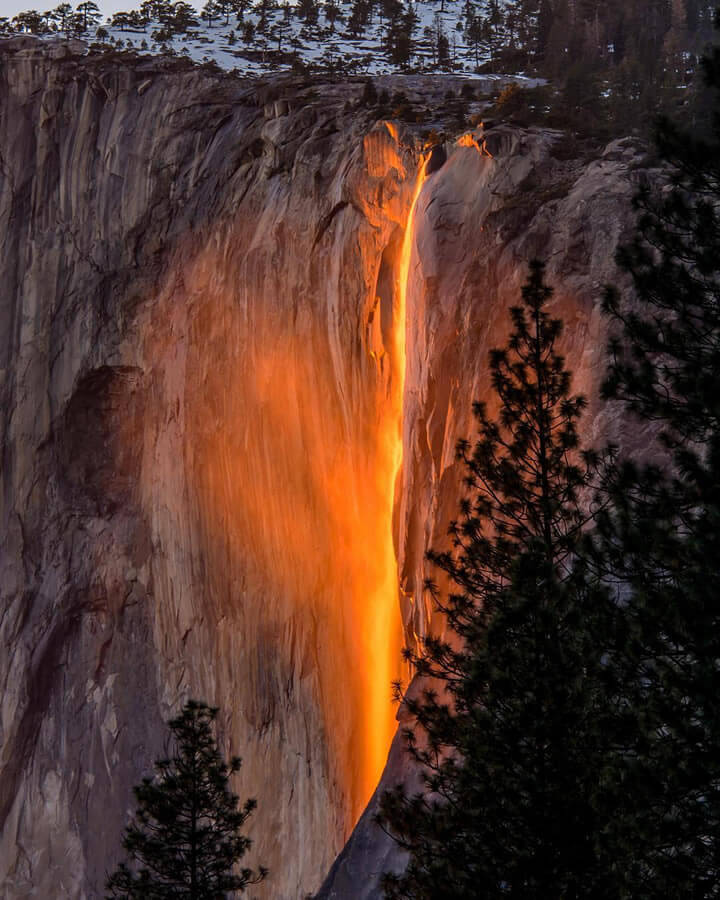 For five of the past six years Mother Nature did not put on her show because of the drought –and this year's plentiful snow and rainfall should make it extra breathtaking – IF all the other requirements fall in to place.
Not only must there be abundant water flowing, but the sun must also be aligned perfectly at just the right angle to produce the red, orange and gold reflections to create the illusion. And for that to happen there can be no cloud cover, which can be pretty rare in February. And then you have to be in the perfect spot in Yosemite Valley to view Horsetail Fall, which is on the east face of El Capitan, to capture it all.
(We should note that while the angle of the sun is also properly aligned in October, there's no water flowing at that time of year to produce the Firefall.)
The natural Horsetail Firefall should not be confused with Yosemite Firefall that began in the summer of 1872 and continued for almost a century. The owners of the Glacier Point Hotel had hot embers from dying fires raked over the edge of Glacier Point to Yosemite Valley 3,000 feet below. From a distance, it appeared as a glowing waterfall.
The Yosemite Firefall was a summer time event that began in 1872 and continued for almost a century, in which burning hot embers were spilled from the top of Glacier Point in Yosemite National Park to the valley 3,000 feet below. From a distance it appeared as a glowing waterfall. The owners of the Glacier Point Hotel conducted the firefall. History has it that David Curry, founder of Camp Curry, would stand at the base of the fall, and yell "Let the fire fall," each night as a signal to start pushing the embers over.

The Firefall ended in January 1968, when the National Park Service ordered it to stop because the overwhelming number of visitors that it attracted trampled meadows to see it, and because it was not a natural event. NPS wanted to preserve the Valley, returning it to its natural state. The Glacier Point Hotel was destroyed by fire 18 months later and was not rebuilt.
Glacier Hotel Actual Firefall of Embers
Undoubtedly the Awahneechee Indians, who called Yosemite Valley home for hundreds of years, had observed the natural Horsetail Firefall – but if so, they never shared that information with white settlers who discovered the Valley in 1851.
Galen Rowell is the person who took the first-known photograph of the natural Horsetail Firefall, and that was only in 1973. Now hundreds of photographers from around the world flock to Yosemite in late February hoping they'll be one of the lucky few to actually view it – an experience they describe as so deeply moving that it brings tears to their eyes along with actual applause from the crowd of shutterbugs!
The most convenient and crowded viewing area for the "lava" show is at the El Capitan picnic area, just shy of 2 miles past Yosemite Lodge at the Falls on Northside Drive. It's only a small pullout area marked only by a small sign – but in late February, if you keep your eyes peeled for a horde of tripods, you'll have found it.