I'm writing for tomorrow, day 126, and I have a lot going on.  I finally got to see my Broncos meditate with Houston this morning, and it was not really that bad.  The Texans prevailed only because of a couple fluke plays with less than one minute to go in the fourth quarter, when the most players for both teams will be waived in the next couple weeks.  Because of watching that, I got a late start.  I received some very bad news this morning.  I planned to do volunteer work in prison on both Tuesday and Thursday this week.  But the prison is in Salem, 60 miles away, and the friend with whom I go there has a family conflict, so I don't get to go either day..
Jig Zone Puzzle:
Today's took me 4:07 (average 4:33).  To do it, click here.  How did you do?
Short Takes:
From Daily Kos: Notice what's wrong with this lede [sic]from the AP's Donna Cassata?
President Barack Obama's unpopular health care law is losing some of its political punch as vulnerable Democrats see it as less of an election-year minus and Republicans increasingly talk about fixing it instead of repealing.
To be fair to Cassata, the rest of the article is actually pretty informative, but what's happening here isn't just that Democrats are seeing Obamacare as "less of an election-year minus"—it's that now that Obamacare is delivering tangible results, Democrats are seeing it as an election-year plus.
Democratic candidates who are smart will make the ACA a campaign issue, because Republicans are still denying millions their health care and trying to deprive more millions of theirs.
From TPM: Israel bombed an apartment tower in downtown Gaza City on Saturday, collapsing the 12-story building in an unprecedented strike, while Hamas kept up heavy rocket fire that sent more Israelis fleeing border areas close to Gaza.
The violence signaled that a speedy resumption of truce talks is unlikely, despite another appeal by mediator Egypt. Gaps between Israel and Hamas on a border deal for blockaded Gaza remain vast, and repeated rounds of talks have ended in failure.
In the Gaza City strike, a huge fireball followed by a black column of smoke rose into the sky after two Israeli missiles toppled the Zafer Tower, one in a group of several high-rises in the upscale Tel al-Hawa neighborhood. Neighboring buildings shook from the blasts.
The Israeli military said the missiles targeted a Hamas operations room in the building, but did not explain why the entire tower with 44 apartments was brought down.
This seems to be how Zionists do Kristallnacht.
From Huffington Post: A large earthquake caused significant damage and left three critically injured in California's northern Bay Area early Sunday, igniting fires, sending at least 87 people to a hospital, knocking out power to tens of thousands and sending residents running out of their homes in the darkness.
Two adults and one child have critical injuries and Queen of the Valley hospital has treated 87 people, the city of Napa in California wine country said in a statement Sunday. Most patients have cuts, bumps, bruises, said Vanessa DeGier, spokeswoman for the hospital in Napa. She says the facility has treated a hip fracture and heart attack, but it's unclear if it was related to the 6.0-magnitude earthquake. The hospital has set up a triage tent and many people are still coming in, DeGier said.
I hope you will all join me with your hopes, thoughts, prayers, ore however you approach the infinite toward the victims and their loved ones, especially any that we know.
Cartoon: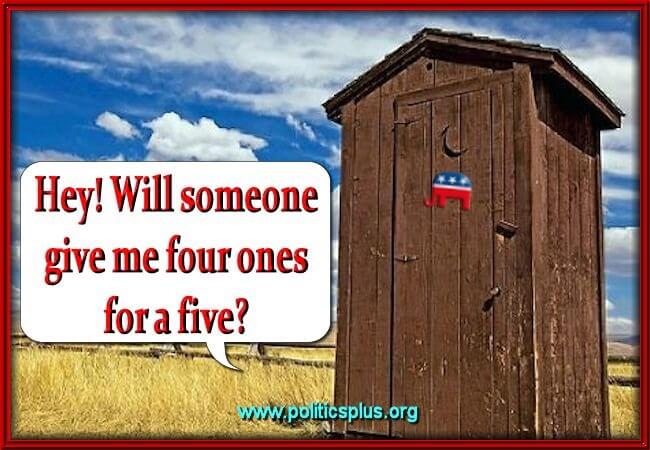 This time, DON'T follow the money!