I'm writing for tomorrow, day 111.  It's late, and I've had a hard time getting untracked today.  I don't know why.  I just feel a bit lethargic.
Jig Zone Puzzle:
Today's took me 3:04 (average 5:46).  To do it, click here.  How did you do?
Fantasy Football:
Players, the live draft of our fantasy football league, Lefty Blog Friends, is Saturday at Noon Eastern, 11 AM Central, 10 AM Mountain, and 9 AM Pacific Daylight Savings Time.  You each get to keep up to two players from last year's team.  If you do, they are your first and second round draft picks.  If you do not, you get the draft picks instead.  It's a good idea to participate in a couple mock drafts now to get familiar with the procedure.  Pay attention to bye weeks so you don't have multiple players at the same positions with a week off at the same time.  Enjoy!!
Short Takes:
From Daily Kos: Julion Evans passed away on July 26, 2014, after a battle with a rare disease called Amyloidosis. He had a large family and an even larger group of friends who wanted to come together to remember his life. His family booked a large church in Tampa, Florida. One day before the service, they were shocked to receive a call from the pastor, telling them the church was canceling after finding out Julion was gay and married to Kendall Caper, his partner of 17 years:
Republican Supply-side pseudo-Christian hatred of the LGBT community extends to the grave. Shame!
From PRWatch: The American Legislative Exchange Council, or "ALEC," met in Dallas on July 30 for its annual meeting. ALEC brings together state legislators and corporate lobbyists to vote on "model" legislation behind closed doors, before those bills are introduced in state houses across the country, stripped of their ALEC origins. As the Kansas City Star has noted, what happens at ALEC meetings "provides a preview for the next state sessions" in legislatures around the country.
What was on tap at ALEC this year? New bad bills, dirty energy, a new lobby shop, and the launch of a spin-off group targeting local governments. Here's a roundup of last week's ALEC coverage.
Click through to see what Republican legislators will be parroting nationwide. ALEC bills have one thing in common. When they pass, you get screwed.
From Huffington Post: Problem: Your right-wing brother-in-law is plugged into the FOX-Limbaugh lie machine, and keeps sending you emails about "Obama spending" and "Obama deficits" and how the "stimulus" just made things worse.
Solution: Here are three "reality-based" charts to send to him. These charts show what actually happened.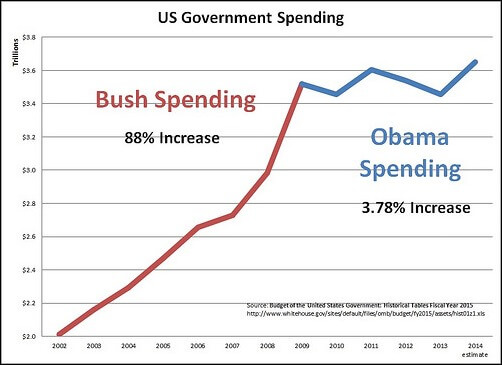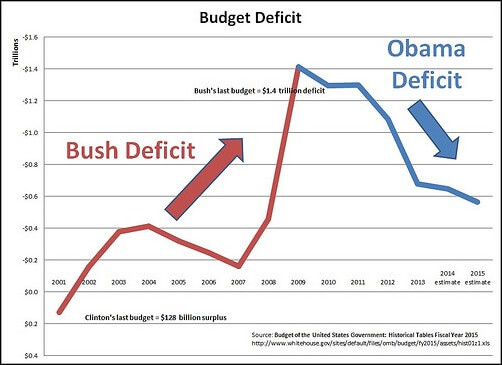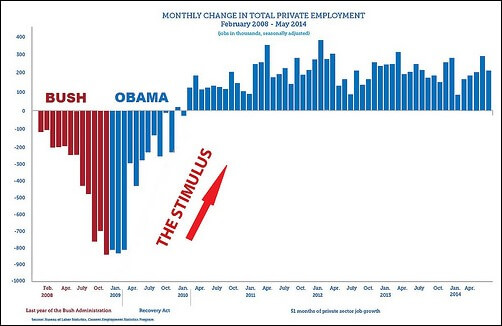 Dang! These are good enough to get you unfriended by Republican relatives!
Cartoon: