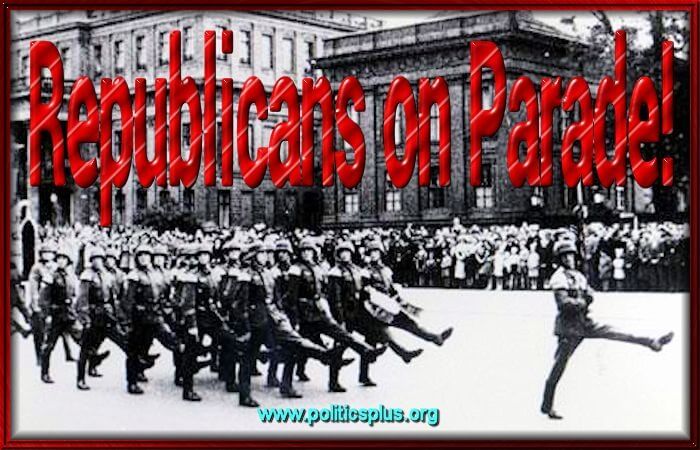 Here is the fiftieth article in our Republicans on Parade series, featuring individuals who personify what the Republican Party has become. Today's honoree is Johann Breyer. He is so honored for his activities in a former incarnation of today's Republican Party.
An alleged former Nazi camp guard who has lived in the United States since the 1950s is facing possible extradition to Germany following his arrest in Philadelphia, authorities said Wednesday.

Federal authorities are moving to extradite Johann (John) Breyer, an 89-year-old U.S. citizen, who is wanted in Germany for war crimes committed during World War II.Breyer was arrested in Philadelphia, where he has long lived, on Tuesday. Federal Magistrate Judge Timothy R. Rice on Wednesday ordered him held without bail, pending an extradition hearing in late August.

According to court documents filed in the U.S. District Court for the Eastern District of Pennsylvania, German authorities have charged Breyer with complicity in the murder of over 216,000 European Jews from Hungary, Germany, and Czechoslovakia, who were forcibly deported to the Auschwitz II-Birkenau concentration camp on 158 trains between May and October 1944.

The U.S. case against Breyer dates to the 1990s when federal authorities sought to strip him of his U.S. citizenship, arguing that Nazis were not eligible. At the time, Breyer admitted to the U.S. Department of Justice that he served as an armed guard at the Buchenwald concentration camp and was later transferred to the notorious Auschwitz camp, where more than 1 million people, most of them Jews, were killed during World War II…
Inserted from <CNN>
Here is the included video:
The best thing about this is that there will be one less Republican vote on 11/4.