I'm writing for tomorrow and am feeling a bit groggy from the extensive cat napping required to recover from volunteer paperwork.  The good Lord knows I am not qualified to be the Treasurer of a nonprofit corporation, but I'm the closest to qualified that we have, and the rigors of financial reporting give me fits!!  Day 19.
Jig Zone Puzzle:
Today's took me 3:01 (average 4:29).  To do it, click here.  How did you do?
Short Takes:
From Upworthy:
Ronald Reagan popularized the idea that people on welfare are a drain on the economy. Fox News carries that mantle today, making regular blanket characterizations of the country's poorest families as big spending welfare frauds. Here's why they're wrong — but don't expect them to admit it.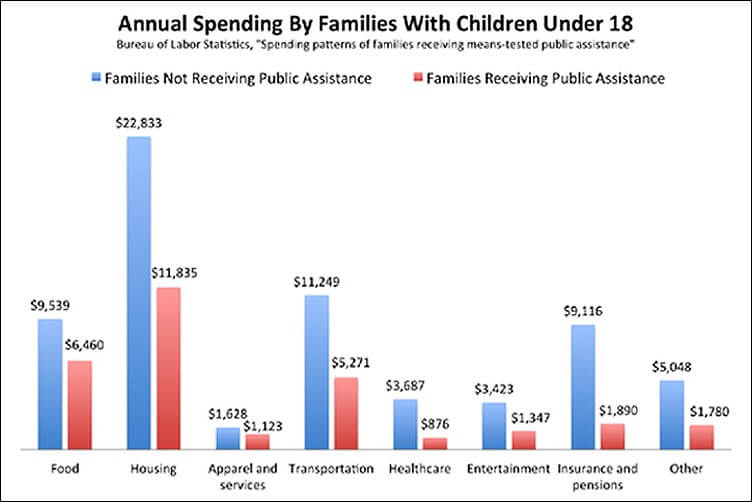 Families receiving public assistance spend on average less than half as much as families that don't receive public assistance. Considering those very moderate figures, it's safe to say that most of the folks represented by the red bars aren't on welfare for selfish personal gain, but because they actually need the support.
These numbers also prompt important questions about opportunity in the U.S. For example, families that don't receive public assistance spend an average 382% more on insurance and retirement than families that rely on public assistance. How might a family's ability, or lack thereof, to invest in the future impact economic mobility for their future generations?
America has devolved from a meritocracy to an oligopoly featuring Republican class warfare against the poor and middle classes. If Republicans have their way, the US will further devolve into a rigid caste system.
From NY Times: Institutional Investor's latest "rich list" in its Alpha magazine, its survey of the 25 highest-paid hedge fund managers, is out — and it turns out that these guys make a lot of money. Surprise!
Yet before we dismiss the report as nothing new, let's think about what it means that these 25 men (yes, they're all men) made a combined $21 billion in 2013. In particular, let's think about how their good fortune refutes several popular myths about income inequality in America.
All pay taxes at a lower rate than middle-class Americans. Click through for an excellent Paul Krugman editorial.
From Crooks and Liars: Why are these people Democrats? Really. They want a select committee, yes another committee to look into Benghazi. It is nothing more than a political witch hunt…
…Here are the Republicans Democrats who voted to keep this charade going; Reps. John Barrow (D-GA-pictured), Patrick Murphy (D-FL), Ron Barber (D-AZ), Mike McIntyre (D-NC), Collin Peterson (D-MN), Nick Rahall (D-WV) and Kyrsten Sinema (D-AZ). [emphasis added]
If one of these DINO cowards is your representative, would you please ask them how the view is with their heads so far up the elephant's ass.
Cartoon: