I'm writing for tomorrow, and tomorrow is almost here, so I shall be brief.  The volunteer corporate paperwork took me about eight hours to complete.  ARGH!  Fortunately, I took some time for political research, before I started.  Day 18.
Jig Zone Puzzle:
Today's took me 3:33 (average 5:47).  To do it, click here.  How did you do?
Short Takes:
From Upworthy: Traffic getting you down? Smog in the air?
This photograph taken in 1991 shows how much road space 72 people would need if they used bicycles vs. cars vs. a bus.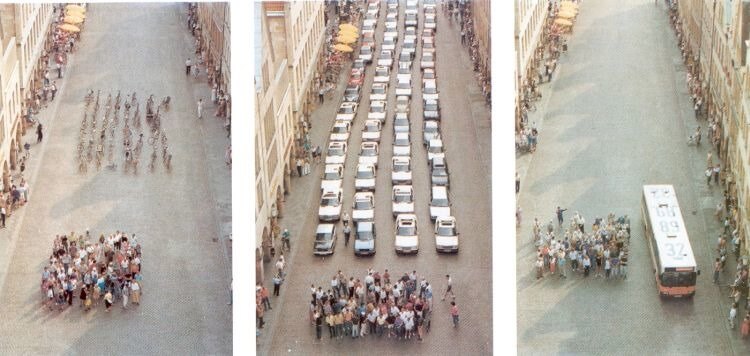 Now I have no choice, but even when I could drive, I opted to travel via public transit to reduce my carbon footprint. I realize that not all have that option, but we need to redesign our cities so that more do.
From Daily Kos: The New York Daily News reported today that Dutchess County controller Jim Coughlan, a Republican candidate for the New York State Senate, tweeted the following about MSNBC host Melissa Harris-Perry:
Keep your stinking paws off my kid, you damned dirty ape.
According to the report in the Daily News Coughlan denies knowing that Harris-Perry is African American and instead was simply quoting the famous line from the original Planet of the Apes.  Sure, not racist at all.  It is so believable.
And what did Harris-Perry say to set Coughlan off?
"We have never invested as much in public education as we should have," Harris-Perry said, "because we've always had kind of a private notion of children: 'Your kid is yours, and totally your responsibility.'"
Right! The typically racist Republican did not know she is black. He also does not know the Pope is Catholic and has no idea where bears shit!. Whatever happened to: "It takes a village to raise a child?" Republicans love that one, when they are using it as a rationalization to keep children from adoption by gay parents.
From NY Times: Americans are less worried about climate change than the residents of any other high-income country, as my colleague Megan Thee-Brennan wrote Tuesday. When you look at the details of these polls, you see that American exceptionalism on the climate stems almost entirely from Republicans. Democrats and independents don't look so different from people in Japan, Australia, Canada and across Europe.
According to Pew Research Center surveys conducted last year, 25 percent of self-identified Republicans said they considered global climate change to be "a major threat." The only countries with such low levels of climate concern are Egypt, where 16 percent of respondents called climate change a major threat, and Pakistan, where 15 percent did.

Click through for much more data.  Democrats certainly need to improve, but the next time some fool tells you there is no difference between the two parties on climate change, remember this.
Cartoon: