Writing for tomorrow, I'm feeling somewhat drained, because the heat has interfered with my sleep.  Today is forecast in the high 70°s, and tomorrow will be cooler.  After taking a rest day today, I have a lot of housework to catch up this weekend.  Day 12.
Jig Zone Puzzle:
Today's took me 3:27 (average 4:39).  To do it, click here.  How did you do?
Short Takes:
From NY Times: Jeb Bush's increasingly serious and public examination of a run for president has shaken the ranks of establishment Republican donors and fund-raisers who had planned to back Gov. Chris Christie of New Jersey in 2016, forcing many of them to rethink their allegiance to the embattled governor.
In private conversations that are now seeping into public view, some of them are signaling to Mr. Christie's camp that, should Mr. Bush enter the race, their first loyalty would be to him, not to Mr. Christie, according to interviews with more than two dozen of them.
A Jeb Bush candidacy is my greatest worry for 2016, because "Strike Three" has the ability to mask is fascism and appear normal.  You'd never know that he was the architect of Stand Your Ground laws.
From The New Yorker: A broad-based coalition of millionaires converged on Washington today to defeat a bill that would have increased the minimum wage for American workers to $10.10 an hour.
Leaving behind their mansions and yachts, the millionaires were motivated by what they saw as an existential threat to the country, Mitch McConnell, a spokesman for the millionaires, said.
"This was an extremely diverse coalition," McConnell said, noting that everyone from the rich to the very rich to the super-rich united to vote down the bill.
OK, Andy, I give up. Where's the satire?
From Daily Kos: You can't fool George Will. Scientists are just progressives who are looking to consolidate power in Washington.
"The whole point of global warming is it's a rationalization for progressives to do what progressives want to do, which is concentrate more and more power in Washington, more and more Washington power in the executive branch, more and more executive branch power in independent czars and agencies, to micromanage the lives of the American people. Our shower heads, our toilets, our bathtubs, our garden hoses — everything becomes involved in the exigencies of rescuing the planet."
Sounds like an open and shut case to me. Scientists from all around the world are in a global conspiracy to seize power in the United States. Perfectly logical.
   What? You want proof? George Will has proof!
Gwynne was the science editor of Newsweek 39 years ago when he pulled together some interviews from scientists and wrote a nine-paragraph story about how the planet was getting cooler.

   Ever since, Gwynne's "global cooling" story – and a similar Time Magazine piece – have been brandished gleefully by those who say it shows global warming is not happening, or at least that scientists – and often journalists – don't know what they are talking about.

   Fox News loves to cite it. So does Rush Limbaugh. Sen. James Inhofe, R-Okla., has quoted the story on the Senate floor.
That one article in 1975 was so brilliant, that it has managed to disprove over 33,000 scientifically researched papers written since.
Republican pollution pawns always have an excuse and a reason to believe that the obvious isn't happening. The excuses are many. The reason is that profit trumps people in a Republican Reich.
Cartoon;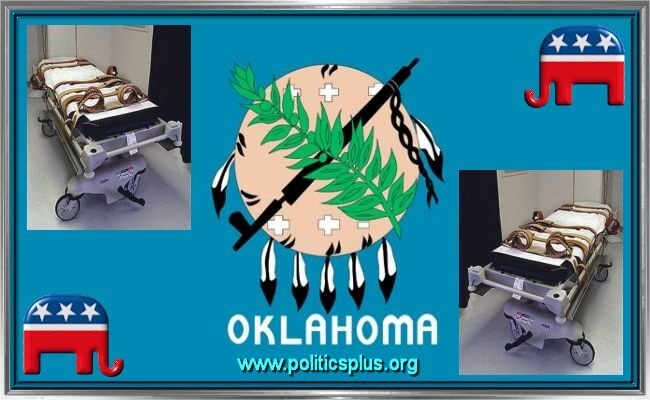 The New Oklahoma flag.