In April, Politics Plus improved slight in every category except KBytes and Hits, and significantly in Pages.  It was also a shorter month.  I particularly liked the big increase in Pages.  It means more people stayed to look at more articles.  Here is our latest summary: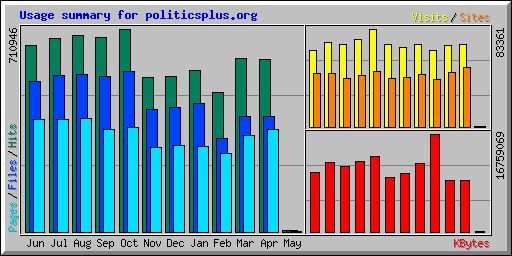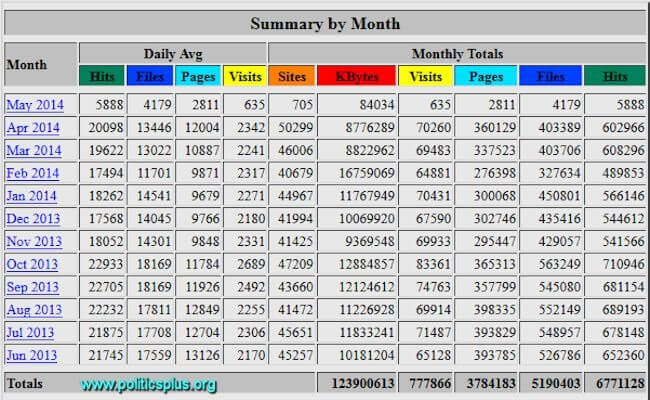 In the monthly totals, a Site is any website from which someone accessed our server, a Hit is every access attempt to our server, and a File is every access attempt to our server that returned data.  The difference between Hits and Files is from access attempts that were sent in error or damaged in transit and failed attempts by hackers, spammers, phishers, and Republicans to access the back end and take control of the site.  Any questions?
Here is our latest Clustrmap:
This is the new map that is starting to look a little less naked.  It shows only the visits from March 2 to April 21.
Here are our top five articles:
Jane Smiley: Capitalist Pigs – 1/17/2010
Happy Easter! – 4/8/2014
A Republican Freedom – 9/24/2013
Rachel Maddow: Why We Did It – 3/8/2014
Rabid Republican Terrorism – 4/17/2014
I'm delighted that my Easter message made the list.
Here are our top non-blog/news referrers.
Google – 3,699
Care2 – 1,980
Stumbleupon – 511
Microsoft Bing – 104
Yahoo! – 84
All were down slightly.
Here are our top 15 blog/news referrers.
http://crooksandliars.com/
http://www.huffingtonpost.com/
http://rixar13.newsvine.com/
http://frieddogleg.blogspot.com/
http://infidel753.blogspot.com/
http://oakcreekforum.blogspot.com/
http://bildungblog.blogspot.com/
http://zenman1550.tumblr.com/
http://progressiveerupts.blogspot.com/
http://mockpaperscissors.com/
http://www.politicalforum.com/
http://www.synapticstew.com/
http://theleftinme.blogspot.com/
http://agreenroad.blogspot.fi
http://hamsandwich66.blogspot.com/
Putting their links here increases the ratings of their sites, so this "linkey love" is our thank you for their support.
Here are our top commentators:Those who leave their URLs in their comment headers, also get "linkey-love" here.
Patty (96)
Lynn Squance (75)
Joanne D (70)
Rixar13 (68)
Edie (57)
Pat A (43)
Jerry Critter (32)
misstexaskitty (32)
SoINeedAName (28)
Jim Phillips (19)
Arielle (13)
Yvonne White (10)
Edith Belcher (8)
john dasef (4)
Phil Hanson (4)
We have 368,697 links on other websites.
Our Technorati rating is 113, unchanged from last month, but still low on the B list.  These ratings yo-yo and do not depend on our traffic or our overall links, but only links on sites registered with and recognized by Technorati.  Because we have new links on two A-list sites, it should have increased.  It seems they have lost our page there and have not updated our activity in months.  I updated both my and the blog's profiles in the hopes that it prompts them to remember we exist.  If only Care2 would register their front page of C2NN news with Technorati, we'd be A list again every month, unless Technorati remains muddled.
As of Midnight, May 1, we have 4,929 articles and 52,401 comments.
I recommend using your own avatar. Go to Gravatar.  Sign up using the email address you use to post comments here and upload the image you want to use as your avatar.  Whenever you comment under that email address here or on any WordPress blog (several others too), that image will become your avatar.
The change I made last month of individually commenting only when I have something significant to add seems to bed translating into more sleep, and more energy for more research into more content.
The 2014 elections are only five months away.  Republicans want to transform our nation into a totalitarian plutocracy.  They want a permanent, one-party regime in which elections exist for show only.  No lie, no trick and no crime are to heinous for them to embrace.  We must turn out the vote to stop them.
Our improved performance again last month was because of you.  Thank you for everything you do, here and elsewhere.