I'm writing for tomorrow, and after having trashed my email system, because a new spam filter for my desktop email did not install properly, and spending most of the night fixing it, I'm pooped.  However, I could not resist another Republican that needs a parade.
Jig Zone Puzzle:
Today's took me 3:51 (average 5:39).  To do it, click here.  How did you do?
Short Takes:
From NY Times: The Senate majority leader, Harry Reid, said on Thursday that he had ordered a forensic examination of the Senate Intelligence Committee's computer equipment to answer what he called the C.I.A.'s "absurd" claims that the committee's staff had hacked into the agency's network.
Mr. Reid's order is the latest round of an escalating fight between the C.I.A. and the Intelligence Committee, which has oversight authority over the agency.
This an uncharacteristically good move by Reid, especially with Republicans supporting the CIA in this matter. He must have shined his ObamaBalls!
From Alternet: Republicans despise America's poor and jobless. The GOP made that perfectly clear by repeatedly denouncing them and cutting food stamps and unemployment benefits. But last week, Republicans revealed that they also hate hard-working Americans!
Republicans condemned President Obama for proposing to extend mandatory overtime pay to more workers. The GOP doesn't believe that Americans who work longer hours should be paid more.
Honk if this surprises you? What? No horns? 😉
From Huffington Post: The DC Abortion Fund, a non-profit group that helps local low-income women afford abortion care, has been giving out coat hanger pendants to its donors for the past four years as a symbol of the dangerous methods women resort to when they are denied access to safe and legal abortion.
When the National Review discovered the pendants [propaganda delinked] earlier this week, it set off a firestorm [propaganda delinked] of conservative media outrage. Breitbart [Breitfart delinked], The Drudge Report [propaganda delinked], The Daily Caller [propaganda delinked], former GOP presidential candidate Herman Cain [9-9-9 delinked] and Bristol Palin were among the conservative outlets and bloggers who piled on.
I'm surprised that these Republicans are getting so bent out of shape. The Republican position on coat hangers is just this east to see: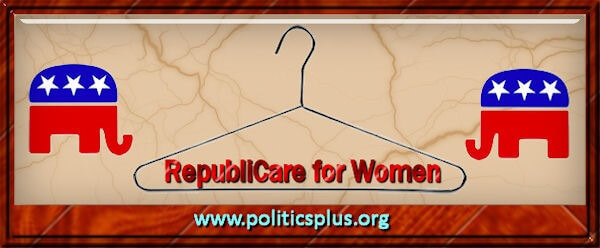 Cartoon: