I'm writing for tomorrow, and this will be the only article, because I cut my search for material short.  Although I spent more time in research than usual, I did not find much that grabbed me, and I didn't want to keep pushing, because I'll be quite busy for the next couple days.  On Monday, I'll be hosting a Board Meeting of my prison volunteer organization here in the Cat Box, including dinner, so I'll have a lot of cleaning and food prep to do for the next couple days.
Jig Zone Puzzle:
Today's took me 3:52 (average 5:34).  To do it, click here.  How did you do?
Short Takes:
From Daily Kos: If what he said in 1996 is any guide, House Speaker John Boehner really, really does not plan to allow a vote on raising the minimum wage:
"I'll commit suicide before I vote on a clean minimum-wage bill," Boehner, then the head of the House Republican Conference, said at the time.
How's that for an extreme position? He wouldn't just die before doing it, he'd actually kill himself. Take his own life rather than lift hundreds of thousands out of poverty by requiring businesses to pay a minimum wage that a small family can come somewhere close to living on. It's almost like he's not the moderate figure trying to balance the demands of his party's teabagger extremists with responsible governance that so many political reporters have painted him as.
What better reason could there for Democrats to circulate a discharge petition on this issue, Not only would it me a major victory against vulture capitalists and their Republican lackeys, but also, the fringe benefit is fantastic!! 😉
From NY Times: The phony budget games finally came to an end this week. After years of trying to entice Republicans into serious negotiations over a fiscal deal — years of instant rejection and painful austerity — the White House announced it was giving up.
In President Obama's 2015 budget, scheduled to be unveiled next month, there will be no more proposals to cut entitlement programs. Instead, the president will demand what the country needs the most: new investments in education, in energy efficiency, in job training. When Republicans turn away, as they will, they will have to explain to voters why they prefer tax loopholes for the rich over programs to create jobs and rebuild the economy.
Mr. Obama will not include an offer that marred his 2014 budget plan: reducing the cost-of-living increase for Social Security in exchange for higher spending and the end of some of those loopholes. The Social Security cut, known as a "chained" Consumer Price Index, was never a good idea. It was likely to hurt vulnerable retirees, but had been long advocated by the right. Nonetheless, Republicans refused to consider that change if it meant touching the tax breaks of their wealthiest donors, so they passed up a chance to achieve their stated goal of reducing entitlement spending.
In my opinion, the authors have this wrong in one key way. I trust you remember that, at the time, I said that the only reason Obama was offering chained CPI was the certainty that Republicans would refuse it, because it came paired with cuts in welfare for the 1%. Now, in my opinion, Obama is making no such offer, because Republicans have become so desperate to appear reasonable in an e3lection year, that they might accept it, if he did.
From TPM: The United Auto Workers union is appealing a union representation election for Chattanooga, Tennessee Volkswagen workers citing interference from Sen. Bob Corker (R-TN) and other groups and lawmakers in the state.
The UAW announced its appeal with the National Labor Relations Board on Friday.
The appeal argues that Corker, Tennessee Gov. William Haslam and State House Speaker Beth Harwell, among others, "conducted what appears to have been a coordinated and widely publicized coercive campaign. They worked, in concert with their staffs and others, to deprive" Volkswagen Group of America, Inc. "workers of their federally-protected right, through the Election, to support and select the UAW as their exclusive representation under Section 9(a) of the National Labor Relations Act (the "Act"), free of coercion, intimidation, threats and interference."…
…Read the appeal here.
Having read the appeal myself, as I strongly recommend that you do too, I agree that the UAW complaint is accurate, and that the NLRB should set aside the election and order a new one.
Cartoon: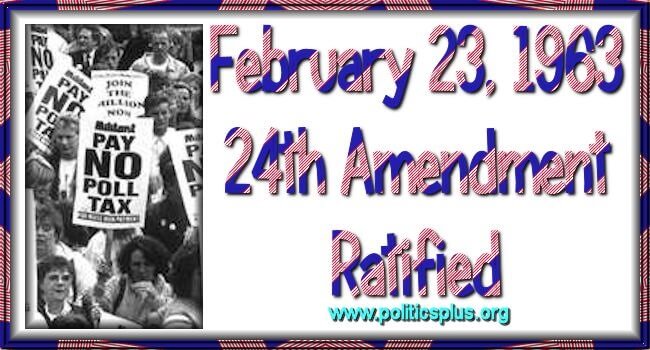 This effectively makes any Voter ID laws that require voter expense, either for the ID, or for the documents needed to obtain it, unconstitutional.