In January, Politics Plus remained dead slow, because for most of the month, I was ill or doing volunteer work. Nevertheless, we had an increase from December in every category, except Page Views. There were so many days that I posted only an Open Thread that readers had little need to change pages to comment on multiple articles.
Here is our latest summary: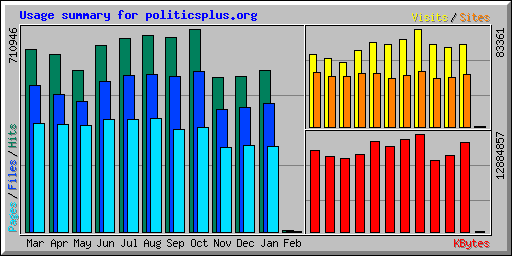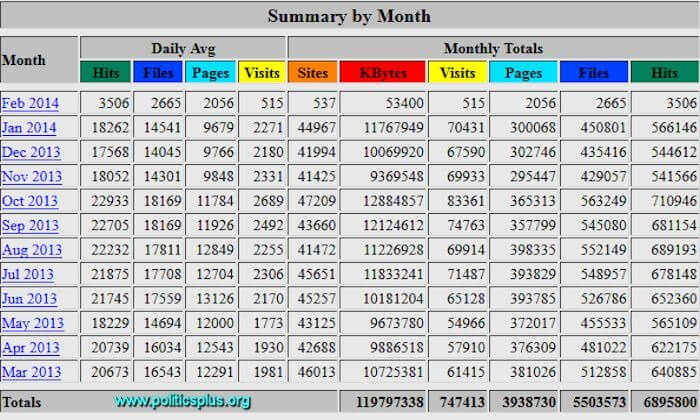 In the monthly totals, a Site is any website from which someone accessed our server, a Hit is every access attempt to our server, and a File is every access attempt to our server that returned data. The difference between Hits and Files is from access attempts that were sent in error or damaged in transit and failed attempts by hackers, spammers, phishers, and Republicans to access the back end and take control of the site. Any questions?
Here is our latest Clustrmap:

Our map was archived in February, so what you see is from March 1 to December 15, when it was last updated. This may be the last map before it resets again
Here are are top five articles:
People came from an external site with the specific purpose of reading these articles more than any others. It's unfortunate that only two of the five are from last month.
Here are our top Non-blog referrers.
Stumbleupon 2,602

Care2 1,626

Facebook 180
Thanks to Richard (aka Rixar) for putting our articles on Stumbleupon and occasionally elsewhere.
Here are our top fifteen blog/news referrers for January.
http://frieddogleg.blogspot.com/
http://infidel753.blogspot.com/
http://bildungblog.blogspot.com/
http://alterx.blogspot.ca/
http://oakcreekforum.blogspot.com/
http://zenman1550.tumblr.com/
http://hamsandwich66.blogspot.com/
http://www.synapticstew.com/
http://annette-justmylittlepieceoftheworld.blogspot.com/
http://theleftinme.blogspot.com/
http://whohijackedourcountry.blogspot.com/
http://tinfoilandtea.tumblr.com/
http://buckdogpolitics.blogspot.com/
http://disaffectedanditfeelssogood.blogspot.com/
http://rixar13.wordpress.com/
Every time we link to their sites, it increases their ratings, so here's some linkey-love in return. The best ways you can spread the message to others is to use the share button at the bottom of each article to list our articles on the the networking sites where you belong. Quote PP articles on your own blogs also helps. The operative commandment here is "thou shalt steal." We're on the same side here, and I encourage it. Even if you want to repost a whole article, that's OK. Just link back, please. Also, feel free to swipe my graphics in the articles. If they are labeled with our Politics Plus URL, they are my work.
Here are the top fifteen commenters for December. I remembered and copied them off in time. I don't count, as I'm the resident big mouth, and I try to reply to almost every comment, except replies directed at someone else. Those who leave their URLs in their comments, also get linkey-love here.
OOPS! That sneaky Kitty snuck in twice!! 😉
We have 241,147 links on other websites. For a couple years now, I've been reporting well over one million external links. Today I discovered that, because of the way I set up the site originally to preserve front end flexibility, it appears to Google Webmaster Tools that most of our internal links are external. I just learned how to separate them out. and I apologize for over reporting it for so long. I assure you that I never intended to deceive you.
Our Technorati rating is 114, up 1 from last month, but still low on the B list. These ratings yo-yo and do not depend on our traffic or our overall links, but only links on sites registered with and recognized by Technorati. If only Care2 would register their front page of C2NN news with Technorati, we'd be A list again every month, once I started posting in sufficient quantity to justify it.
As of Midnight, February 1, we have 4,677 articles and 50,332 comments.
I recommend using your own avatar. Go to Gravatar. Sign up using the email address you use to post comments here and upload the image you want to use as your avatar. Whenever you comment under that email address here or on any WordPress blog (several others too), that image will become your avatar.
We are hard pressed in an election year, and Republicans are going all out to deceive people into voting for them and prevent people they can't fool from voting. If they can't do that they will try to fool people into thinking their vote does not matter and staying home or wasting their vote on a candidate with no chance to win. However, they have given is many tools we can use to defeat them. One is to make the minimum wage an issue in state and local elections, not just federal. We must press on!