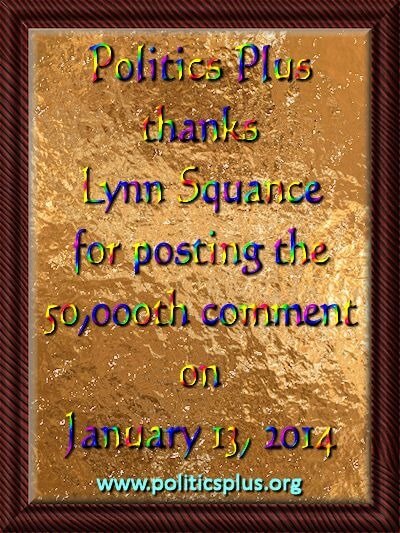 Lynn has now won her eighth Big Mouth Award.  For over a year she has been our top commentator, and is also one of only two people, other than myself, that I have authorized to post articles here.  Lynn is a denizen of Care2, and is still a Canadian, unfortunately for the US.  I've said this before, but it still bears repeating.  If 10% of US citizens had half, or if half of US citizens had 10% of the knowledge of and insight into US politics that this Canadian gal regularly displays, our country would be far better off.  Congrats Lynn!  She is a treasure, whose contribution to this site cannot be overstated.  Please join me in giving her even more of the kudos she so richly deserves.
Because this 50,000 comments is such benchmark here at Politics Plus, I am awarding a prize to the winner for the first time ever, which I am having custom manufactured to commemorate the occasion.  I'll be ordering it later today and having it sent top her, direct from the manufacturer.  She should receive it within a couple weeks.  Lynn has agreed to email me a picture of her posing with her prize, when she receives it.  I will post it for you.  For now, I'm not saying what it is, but here one hint.  It is NOT an itsy-bitsy, teeny-weeny Politics Plus bikini. 😉
In the future, doing this for every thousandth comment would be cost prohibitive, but I think I shall for every ten thousandth, subject to a one per person per lifetime limitation.