Here are the results of our Christmas Dinner Poll.  Politics Plus Polls are not scientific, because those who respond are not balanced according to demographic categories.   Therefore, we do not accurately reflect the makeup of the US population.  Nevertheless, our polls are often both accurate and indicative of the nation's view.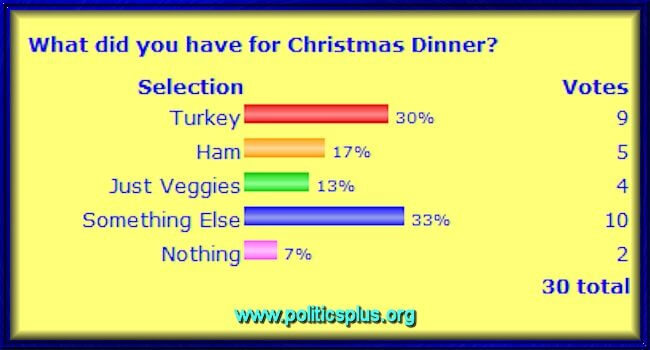 And here are your comments.
Showing comments 1–7 of 7.

Posted by Jerry Critter  December 28, 2013 at 8:16 pm.  

 

We served turkey and ham to the family, but I am a vegan so only veggies for me.

 

Posted by Joanne D  December 28, 2013 at 4:07 am.  

 

I'm not fond of either ham or turkey, and that's a good thing. because I was just cooking for myself.

 

Posted by Patty  December 28, 2013 at 1:12 am.  

 

It was the first year I didn't cook. We went to friends' house and they made prime rib, twice baked potatoes, green beans and Brussels sprouts. Yummy! I made Raspberry Lime Trifle for dessert and of course took a large tray of Christmas cookies to share with all.

 

 

Posted by Marva  December 27, 2013 at 5:52 am.  

 

We didn't have a Christmas Dinner on Christmas day. We were still on left-overs from two days before which was the only day we could get some part of the family together in one house. We did have turkey and ham on the 23rd. Next year, I think I'll just tell everyone to come over on the 21st and we'll have a Happy Solstice dinner.

 

Posted by John Dasef  December 27, 2013 at 4:50 am.  

 

Turkey and ham, but you didn't give that option.

 

 

Posted by gene jacobson  December 27, 2013 at 4:48 am.  

 

I went to the Mandarin Buffet, it isn't their holiday, and I enjoy the opposite of what most are doing. Though, there are quite a few people who feel as I do, considering the number of people there!

 

 

Posted by Lynn Squance  December 26, 2013 at 11:11 pm.  

 

I cooked a "turkey breast in a bag" on Catmas eve because I knew I wouldn't have time for Catmas dinner on Catmas day . . . I went to see my mother. Scalloped potatoes, veggies and 3 cats ready to eat turkey rounded out the fare. On Catmas day, quinoa salad for dinner after returning from mother's.
I voted for Turkey bird!!  It's a cat thing.
The new poll is up.  Enjoy!!