I'm writing for tomorrow and running late, because I overslept.  Because we're almost out of year I contributed to the campaigns of my Congressman, Earl Blumenauer, and my Senator, Jeff Merkley.  I urge all to support the progressives that represent them, because progressives are the ones Republi9cans most want to destroy.
Jig Zone Puzzle:
Today's took me 3:17 (average 5:12).  To do it, click here,  Hoe did you do?
Fantasy Football Finals:
Here are the final playoff standings for our fantasy football league, Lefty Blog Friends.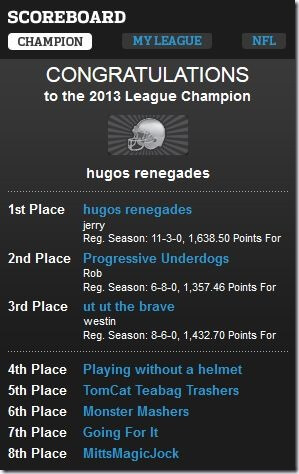 Congrats to all!
Judy had informed me that she won't be playing next year.  If you let me know very quickly, I think I can get you plugged in in advance.  It really is a lot of fun.
Short Takes:
From Upworthy: This time of year, the word "family" gets thrown around a whole lot, which can leave a lot of people who don't have it feeling left out. Imagine how much kinder the world could be if we extend the definition to make it a little more inclusive.
I'm thankful for my family… all of you.
From NY Times: Democratic Party leaders, bruised by months of attacks on the new health care program, have found an issue they believe can lift their fortunes both locally and nationally in 2014: an increase in the minimum wage.
The effort to take advantage of growing populism among voters in both parties is being coordinated by officials from the White House, labor unions and liberal advocacy groups.
In a series of strategy meetings and conference calls among them in recent weeks, they have focused on two levels: an effort to raise the federal minimum wage, which will be pushed by President Obama and congressional leaders, and a campaign to place state-level minimum wage proposals on the ballot in states with hotly contested congressional races.
With polls showing widespread support for an increase in the $7.25-per-hour federal minimum wage among both Republican and Democratic voters, top Democrats see not only a wedge issue that they hope will place Republican candidates in a difficult position, but also a tool with which to enlarge the electorate in a nonpresidential election, when turnout among minorities and youths typically drops off.
I consider this an excellent strategy, because it gives voters another reason to come to the polls and because Republican opposition demonstrates they they represent only the super rich and corporate criminals.
From TPM: Belief in evolution among Republicans has dropped more than 10 percentage points since 2009, according to a new poll by the Pew Research Center.
Pew found that 43 percent of Republicans said they believed humans and other living beings had evolved over time, down from 54 percent in 2009. More (48 percent) said they believed all living things have existed in their present form since the beginning of time.
That proves it. Republicans are DEvolving!
Cartoon: