I'm writing for tomorrow and waiting for my helper friend to arrive and continue the business of moving.  It's a slow time for news, because the people woo make it are on vacation, but with a little extra digging, I could come up with articles.
Jig Zone Puzzles:
Today's took me 3:08 (average 5:08).  To do it, click here.  How did you do?
Short Takes:
From Upworthy: Conversations about the U.S. education system often revolve around misconceptions. Here's some clarity.
This video makes it crystal clear that Democrats are on the right track, but every one of the Republican educational policies will make the problem worse.
From Alternet: You already know that the United States locks up a higher percentage of its population than any other country in the world. If you look at local, state and federal prison and jail populations, the United States currently incarcerates more than 2.4 million people, a figure that constitutes roughly 25 percent of the total incarcerated population of the entire world.
A population of 2.4 million is a lot – enough, in fact, to fill up a good-sized country. If the incarcerated population of the United States constituted a nation-state, what kind of country would it be?
Click through for a fascinating read on the US system if
Click through for a fascinating read on the US system if prison injustice.  Because I spend three days a month working with prisoners, I can confirm this piece.
From Crooks and Liars: As 2013 draws to close, the negotiations over the Iranian nuclear program have entered a delicate stage. But in 2014, the tensions will escalate dramatically as a bipartisan group of Senators brings a new Iran sanctions bill to the floor for a vote. As many others have warned, that promise of new measures against Tehran will almost certainly blow up the interim deal reached by the Obama administration and its UN/EU partners in Geneva. But Congress' highly unusual intervention into the President's domain of foreign policy doesn't just make the prospect of an American conflict with Iran more likely. As it turns out, the Nuclear Weapon Free Iran Act essentially empowers Israel to decide whether the United States will go to war against Tehran.
Contact your Senators, and tell them to oppose this. Empowering Israel over war on Iran is like empowering Republicans over war on ________. (Almost anything good will do here.)
Cartoon: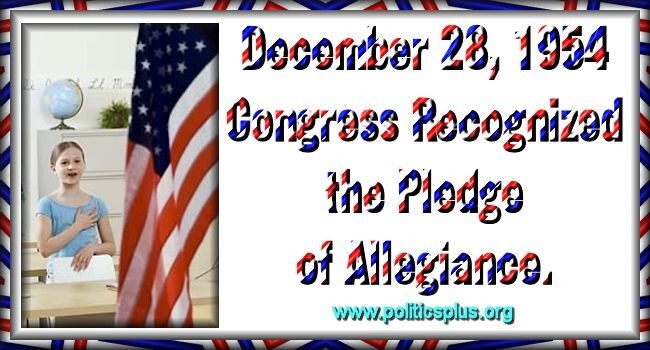 Contrary to Republican lies, this was not handed down from the founding fathers. It was written in 1892, and the words "under God" were not added until 1954.