Here are the results of our Naughty or Nice Poll.  Politics Plus Polls are not scientific, because those who respond are not balanced according to demographic categories.   Therefore, we do not accurately reflect the makeup of the US population.  Nevertheless, our polls are often both accurate and indicative of the nation's view.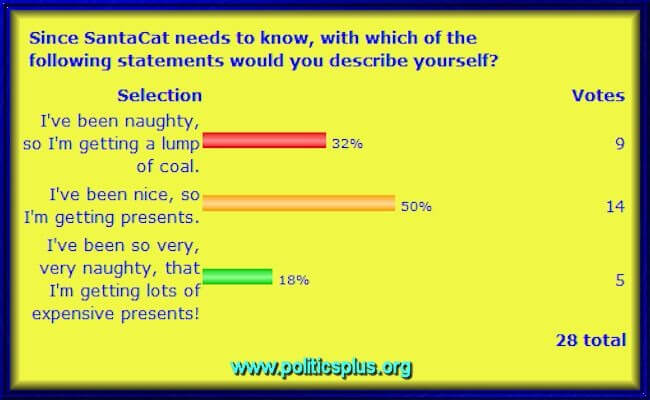 And here are your comments.
Showing comments 1–9 of 9.
Posted by SoINeedAName  December 20, 2013 at 2:57 pm.  

 

I'm not getting ANY presents!

Almost two decades ago our family decided to forgo gift exchanges at Christmas. All it was, was an exchange of shopping lists for things none of really needed.

We each select a charity to give to instead.

So now Christmas is just like Thanksgiving (family – food – friends) – but with better decorations … and a better feeling in our hearts.

 

Posted by Angelica in reply to SoINeedAName  December 22, 2013 at 3:15 am.  

 

That is simply beautiful.

 

 

Posted by Joanne D  December 17, 2013 at 8:09 am.  

 

Nothing fits. I've been nice but I won't get presents. I won't get a lump of coal because the 1% has the market cornered and would certainly not let me have anything I might use to keep warm. And I assume the third answer is for Republican politicians only.

 

BTW I have a pattern to knit a "lump of coal" but it has to be felted to be finished and I am allergic to wool. Anyone interested let me know.

 

Posted by Patty  December 15, 2013 at 2:41 am.  

 

Even though I've been nice to most, I was naughty toward the 1%. I don't give them my money or my time.

I won't even get coal.

 

Posted by Edie  December 13, 2013 at 6:02 pm.  

 

Sorry, can't help myself. I try to be naughty, but all that repression I was taught as a child keeps popping up.

 

 

Posted by Rixar13  December 13, 2013 at 1:30 pm.  

 

Lump of coal from the 1% just as Marva pointed out…

 

 

Posted by Marva  December 13, 2013 at 11:47 am.  

 

You're missing the most common answer for much of the world:

 

You've been nice, but the 1% is going to clout you with a lump of coal anyway.

Posted by Miss Kitty  December 13, 2013 at 11:24 am.  

 

 

 

Posted by Yvonne White  December 13, 2013 at 9:15 am.  

 

I lied..oh, I've been very naughty, but the expensive presents were just fantasy!;

I found out on Fox News that Santa is a nit-picking white dude, so I'm screwed..
I voted 'Naughty'.  While I haven't actually done anything naughty, I would have, if only I could remember how!!  Besides, TomCats are naughty by definition.  I need to have a long talk with the ladies who voted 'So very, very naughty'. 😀
Vote in the new poll quickly.  It will last less than a week.