I'm writing for tomorrow and waiting to see election results. I sure hope the Cooch screws the pooch!
Update: I just heard some news on the new digs, and I have to take some updated financial info in tomorrow, and have a meeting with the Resident Services Manager next Wednesday, so it looks like I just be moving late in the month. However, that puts me in a big rush tonight, and writing for Thursday may be limited.
Jig Zone Puzzle:
Today's took me 3:49 (average 4:43). To do it, click here. How did you do?
Fantasy Football Report:
Scores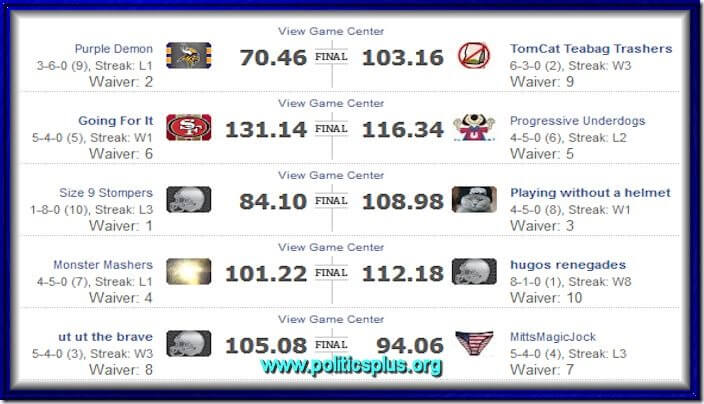 I'm amazed my subs did that well!
Standings: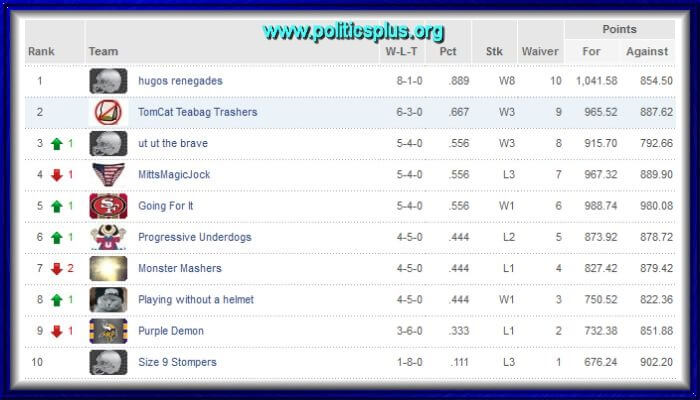 I'm trailing one damn tough team by two games!
Short Takes:
From YouTube: Rachel Tore Idiot a New One!!
Of course you remember that the Southern Avenger was featured here in Republicans on Parade. A couple days ago, I was willing to entertain the possibility that Idiot, Son of Idiot, Named after Idiot did not know, but the scope, frequency and depth of his plagiarism demonstrates clearly that it was his intent.
From Washington Post: As some Republicans in Congress push to scale back and otherwise reform entitlement programs, a pair of liberal senators are pushing to expand one of the programs — Social Security.
Sens. Sherrod Brown (D-Ohio) and Tom Harkin (D-Iowa) are spearheading the effort, which they say would increase benefits for all Social Security beneficiaries by about $70 per month, change the cost-of-living calculation for benefits, and increase the amount that the wealthiest Americans pay into the program.
Social Security taxes are currently capped at the first $113,700 of someone's income. Brown and Harkin say the tax increase would help sustain the program, which is solvent but is on track for significant deficits in future decades.
Kudos to Brown and Harkin! It's about time someone took a proactive approach instead of playing defense all the time! Scrap the cap!!
From Raw Story: Kentucky's Republican U.S. Senators Mitch McConnell and Rand Paul will attempt to attach a national anti-union "right to work" law to the Employee Non-Discrimination Act (ENDA) — the federal law designed to provide workplace protections for lesbian, gay, bisexual and transgender employees. According to WGDB's Roll Call, the Senate is expected to begin debate on ENDA this week.
Right to work laws are laws that prohibit employers and workers from entering into contracts mandating union membership for any profession, from nurses to police officers to auto workers. States with right to work laws generally feature fewer protections for workers. The laws typically weaken workers' position to bargain with employers by reducing union membership and stripping away the power of collective bargaining.
Do Bought Bitch Mitch and Idiot, Son of Idiot, Named after Idiot actually think that the Dems will give away Labor's legitimate rights? Not this year!!
Cartoon: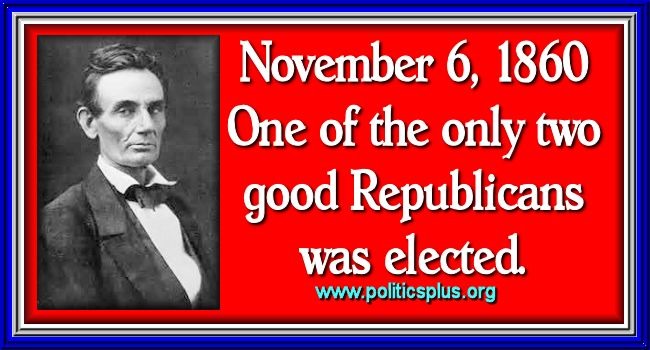 I should have made that three.