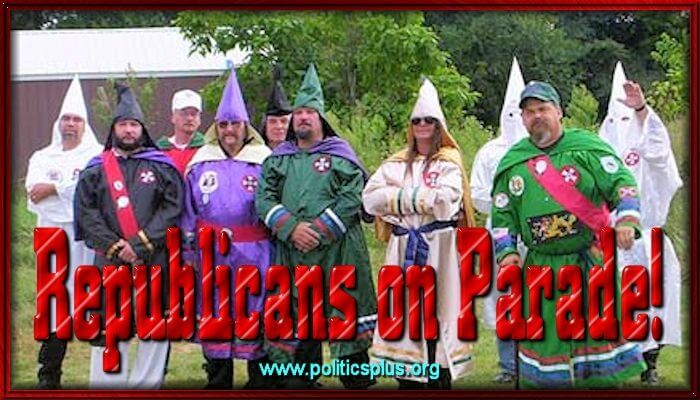 Here is the thirty-fourth article in our Republicans on Parade series, featuring individuals who personify what the Republican Party has become. Today's honoree is Jessica Black.  She is not a politician or a pundit, but she is spreading Republican racism from the worst possible position.
This year's most offensive Halloween costume "winner" is doting mother Jessica Black of Craigsville, Va., who was just upholding a time-honored family tradition when she decided to send her 7-year-old son out as a KKK member. "My brother was [a Klansman] when he was in kindergarten and when he was 13," Black told WHSV [Faux delinked].

Her son Jackson apparently saw the white supremacist costume in the movie "Fried Green Tomatoes" and made his mom proud when he asked if he could dress up at a Klansman for Halloween "cuz it was cool."

"I did tell him that if you do it, you know there's going to be people talking about you, there's going to be people saying bad things about you when you do wear it," she said…
Inserted from <Salon.com>
Here's the video:
While I certainly condemn sending this woman death threats, I find this appalling. Note how the Republican Reichsministry of Propaganda, Faux Noise, gave her more time to express her hatred and KKK Support then it gave her rightfully upset neighbor. That's because Klan activities has become a very Republican thing to do.