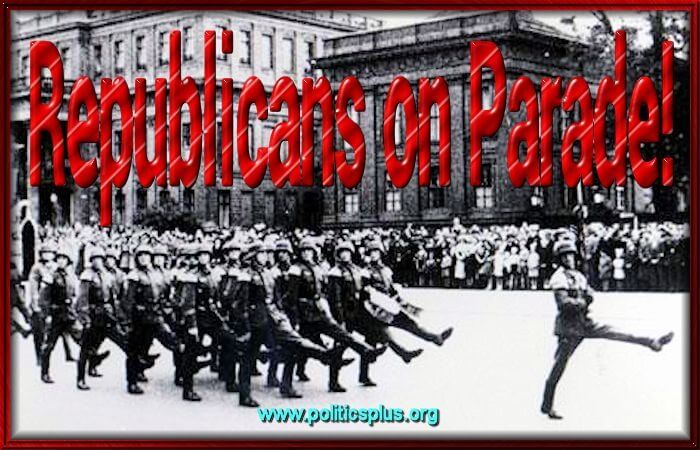 Here is the thirty-first article in our Republicans on Parade series, featuring individuals who personify what the Republican Party has become. Today's honoree is Republican Supply-side pseudo-Christian TV host Rick Joyner, for proposing treason in the form of a major Second Amendment solution.
Rick Joyner, one of the leading lights of the Christian Dominionist movement, recently told his television audience that democracy has failed in America [seditionist delinked], and that the nation's only hope, in light of the looming "tyranny" of the Obama administration, is "a military takeover – martial law."

Said Joyner: "There's no way our Republic can last much longer. It may not last through Obama's second term. There are a lot of people who feel that it can't. That there are forces right now that are seeking to undermine and to destroy the Republic. There's almost a glib and almost a joyful disregard of the Constitution and belittling of the Constitution. We can't make it without that. It's our foundation, our moorings. We're headed for serious tyranny…

"I think we've been used in some wonderful and powerful ways by God. We've been one of the most generous nations in history. We've done so much good. And that's why I appeal to the Lord: 'Don't let us be totally destroyed, please raise up those who will save us!' And as I've started telling friends for a long time, no election is going to get the right person in there that's going to restore us, because the system is so broken, so undermined right now, the whole system.

"I believe our only hope is a military takeover – martial law."… [emphasis added]
Inserted from <SPLC>
SPLC had video of this in a companion article, but Joyner pulled it, claiming © infringement to hide from responsibility for what he said, although he litters the web with his other screeds.  David Pakman has an out-take, however.
Joyner, a self-proclaimed TEAbagger, claims to be supporting the Constitution, but ignores the constitutional mandate that we elect our officials.  But Joyner says that he has the right to overthrow those elected officials by force.  For him to make that statement is sedition.  If he actually staged an attempted coup using US military units, it would be treason, because a military attack on the nation is a state of war.  If nothing else, this illustrates how important it is to keep Republican Supply-side pseudo-Christians from infiltrating our military and brainwashing our troops, as they are trying to do now.