I'm writing for tomorrow and rushing to get done in time to meditate on my Bronco's worship in the Church of the Ellipsoid Orb.
Jig Zone Puzzle:
Today's took me 3:32 (average 5:03). To do it, click here. How did you do?
Religious Ecstasy:

Short Takes:
From Daily Kos (Hat-Tip Nameless): Republican idea of compromise summarized perfectly in one tweet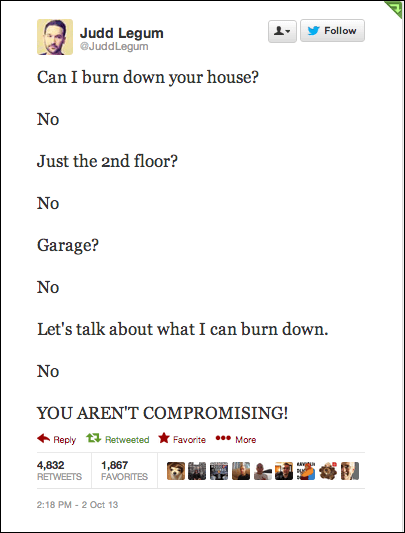 Does that nail it, or what?
From NY Times: The Supreme Court begins a new term on Monday, even as the landmark rulings of last term continue to reverberate. The court has agreed to hear more than 50 cases so far on disputes both familiar and fresh: from affirmative action and freedom of speech, to campaign finance and the president's power to make recess appointments.
Tome to stock up on barf bags and blood pressure meds. Just like in Poltergeist, judicial venereal disease, aka SCROTUS, is ba-a-a-a-a-a-ck!
From MSNBC: The Rosetta Stone of TEAbuggery
Visit NBCNews.com for breaking news, world news, and news about the economy
When the Rosetta Stone of a movement centers around Christine "I am not a witch" O'Dingbat, that movement is completely off the deep end! As for the Republican legislators, who fear being TEAbuggered, putting theirs jobs on the line to represent your constituents and convincing them to vote in primaries to protect them from the Baggers is their job. Representing only a minority, because they fear fear them is simple incompetence.
Cartoon: