Now, I'd like to sit down with you and work out a compromise, but the entire time we're talking, I get to hold a loaded gun to your head, and if I don't like what you have to say, I just might pull the trigger.  Could you negotiate effectively under those conditions?  Would you agree to do so?  I couldn't and wouldn't, so nobody should be surprised that Barack Obama is savvy enough to refuse to talk until ALL the loaded weapons are cleared from the table.
In their first meeting since a budget impasse shuttered many federal operations, President Obama told Republican leaders on Wednesday that he would negotiate with them only after they agreed to the funding needed to reopen the government and also to an essential increase in the nation's debt limit, without add-ons.

The president's position reflected the White House view that the Republicans' strategy is failing. His meeting with Congressional leaders, just over an hour long, ended without any resolution.

As they left, Republican and Democratic leaders separately reiterated their contrary positions to waiting reporters. The House speaker, John A. Boehner, Republican of Ohio, said Mr. Obama "will not negotiate," while the Senate majority leader, Harry Reid, Democrat of Nevada, said Democrats would agree to spending at levels already passed by the House. "My friend John Boehner cannot take 'yes' for an answer," Mr. Reid said.

The meeting was the first time that the president linked the two actions that he and a divided Congress are fighting over this month: a budget for the fiscal year that began on Tuesday and an increase in the debt ceiling by Oct. 17, when the Treasury Department will otherwise breach its authority to borrow the money necessary to cover the nation's existing obligations to citizens, contractors and creditors… [emphasis added]
Inserted from <NY Times>
Photo credit: USA Today
Linking the two prevents Republicans from settling this crisis and immediately causing another.
Alex Wagner covered how Obama explained his reasoning.
Visit NBCNews.com for breaking news, world news, and news about the economy
Obama and the Democrats have always been willing to negotiate with the Republican Party. But they rightly refuse to do so under coercion. LaTourette is dead wrong. Both sides have not painted themselves into a corner. Only Republicans painted themselves into a corner. As much as Republicans are trying to blame the Baggers for this, the leadership are the ones responsible, because they refuse to put a clean CR on the House floor.
Chris Hayes explains just how far Obama and the Democrats have moved toward a Republican position.
Visit NBCNews.com for breaking news, world news, and news about the economy
Kudlow. A Republican Corporacon, is so full of you know what that his eyes are turning brown. Democrats aren't "getting religion" about budget levels. They are bending over backwards to bed agreeable to Republicans.  Look at that chart again yourself!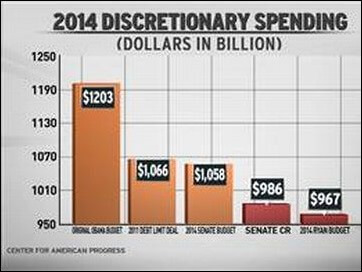 In summary, Democrats have already given to much. For them to negotiate further concessions with a gun to their head would be patently absurd.