I'm writing for tomorrow, day 100, and I'm sad to say the cravings have not diminished one iota.  I haven't been Peter Perfect, but my doctor says that she has no problem with my ultra-low cheating level (< 1/week or two).  On the downside, my sense of smell has returned, and that can be a major inconvenience on public transit.  Tomorrow is a holy day in the Church of the Ellipsoid Orb.  My Broncos will not be worshiping,  They have been blessed with worship on Monday night this week.
Jig Zone Puzzle:
Today's took me 4:08 (average 5:10).  To do it, click here.  How did you do?
Short Takes:
From Upworthy: The new NALT Christians Project is currently blowing my mind. It's a place where Christians can publicly proclaim that they are "not all like that." And it's about time.
These are authentic Christians. The haters are Republican Supply-side pseudo-Christians. The difference is clear.  (Thanks to Pat, you'll be seeing more of these, as I've put myself on their list.)
From The New Yorker: In a sharply critical op-ed piece for the Russian Web site Pravda, Sen. John McCain (R-Arizona) called Russian President Vladimir Putin "a brutal, freedom-hating tyrant" and challenged Mr. Putin to tear down the Berlin Wall.
"The Wall stands as a symbol of your failed, repressive system," Sen. McCain said. "Until you tear it down, the world will see you and your Soviet goons for what you are: relics destined for the dustbin of history."
"Mr. Putin, tear down that wall," Sen. McCain's editorial pointedly concluded.
Dang!! Andy really HAS switched from satirizing to reporting!!  😉
From NY Times: The Obama administration on Friday announced that it was not backing down from a confrontation with the coal industry and that it would press ahead with enacting the first federal carbon limits on the nation's power companies.
The proposed regulations, announced at the National Press Club by Gina McCarthy, the administrator of the Environmental Protection Agency, are an aggressive move by Mr. Obama to bypass Congress on climate change with executive actions he promised in his inaugural address this year. The regulations are certain to be denounced by House Republicans and the industry as part of what they call the president's "war on coal."
In her speech, Ms. McCarthy unveiled the agency's proposal to limit new gas-fired power plants to 1,000 pounds of carbon dioxide emissions per megawatt-hour and new coal plants to 1,100 pounds of carbon dioxide. Industry officials say the average advanced coal plant currently emits about 1,800 pounds of carbon dioxide per megawatt-hour.
I hear a lot of whining that it isn't enough, and I fully agree. It isn't enough. However, without Congress, it's what he CAN do.
Cartoon: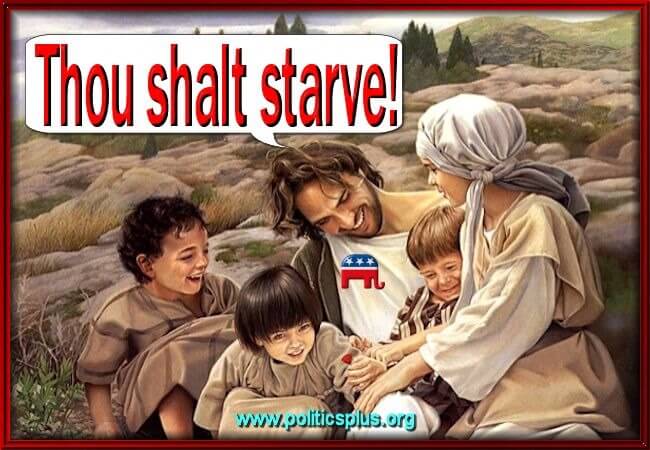 Republican Supply-side Jesus talks about SNAP (food stamps).