Writing for tomorrow, day 68, I'm just wilted.  Early this morning, the temperature outside was 59°, but in the breezeway, outside my windows, it was still 78°, and inside, 83°  Someday rain has to come!!!!
Jig Zone Puzzle:
Today's took me 3:52 (average 5:05).  To do it, click here.  How did you do?
Short Takes:
From MSNBC: Republicans debate government shutdown strategy
Visit NBCNews.com for breaking news, world news, and news about the economy
Whether Republicans shut down the government or trash our nation's credit rating, because Obama is refusing to cave-in and give them their way, it is still sedition that will cost taxpayers a fortune and cause untold misery for the American people. Christina was completely off base to suggest ObamaCare should be ironed out in Conference Committee. It already was, BRFORE it became established law.
From Blue Oregon: Senator Jeff Merkley is doing that thing he does so very well, advocating for lifting up the blue-collar and middle class folks who often fall between the cracks of the very poor and the super wealthy.
Saul Hubbard, The Register Guard (originally published August 9):
When he speaks in Eugene today, U.S. Sen. Jeff Merkley plans to unveil a legislative concept that could provide some federal seed money to an embryonic and radical concept designed to tackle the student debt crisis.

The "Pay It Forward" model would allow students to attend state colleges without paying any tuition up front. Instead, they would commit a small percentage of their future incomes to repaying the state over a couple of decades.

The idea drew national media attention last month after the state Legislature passed a bill to study the feasibility of such a model.
Merkley has been a consistent voice for protecting consumers and has been a watchdog on financial issues. The issue of student debt and rising costs are smack in the middle of his wheelhouse.
I am proud to have supported Jeff and volunteered for his campaign, when he defeated Gordon "Goose Step" Smith. The "progressive" Republican who voted with us, whenever the issue was already decided, and his help was not needed.  I am longer physically able to volunteer, but I will be supporting his reelection bid, both financially, and here on the blog. Oregon leads the way!
From Alternet: Rampant cronyism threatens the economic foundations that have made this the most prosperous country in the world. — Charles Koch
In a 2012  essay [Murdoch delinked]Charles Koch further criticized  crony capitalism, saying "This growing partnership between business and government is a destructive force, undermining not just our economy and our political system, but the very foundations of our culture." Yet Koch Industries is one of the biggest  beneficiaries of oil subsidies and government  contracts. According to the Center for Responsive Politics, the company has spent an average of almost $12 million per year from 2008 to 2012 on oil and gas industry lobbying.
There's more. Over  100 bills introduced in 2013, backed by the American Legislative Exchange Council (ALEC) and heavily funded by the Kochs, seek to drive down wages, benefits, and worker rights.
This is just one of eight reasons why Charles Koch is "one of the scariest men on earth". Click through to read the other seven. Down with the Kochs! Down with Kochroaches!
Cartoon: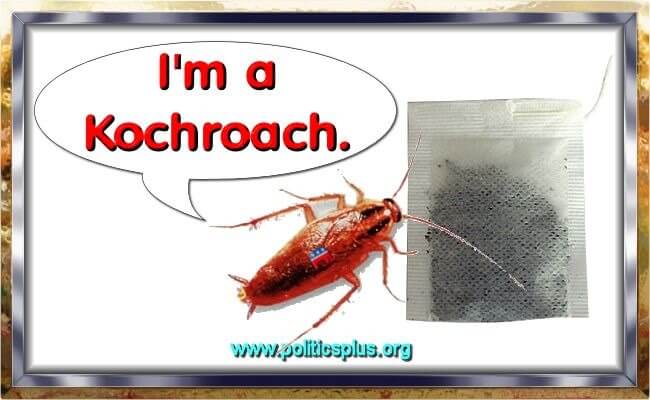 Hat-Tip and kudos to Terrie W from Care2, who inspired the concept for this.