Writing for tomorrow, day 62, it's still cool, early in the day.  Yesterday's meeting with my guys in prison went great.  In our CoDA group, we discussed boundaries, and the guys inspired me with the depth of their understanding of where they need to improve and with their progress in doing so.  Critter sends greetings to Critter and promises to excel, lest he be buried in Critter Crap.  The down side is that I'm beat, after missing sleep, pushing my endurance limits, and returning to a super-heated, closed-up apartment, so this is tomorrow's only article.
Jig Zone Puzzle:
Today's took me 4:35 (average 5:26).  To do it, click here.  How did you do?
Short Takes:
From MSNBC: FDR's evolution of thinking on Keynesian economics,
Visit NBCNews.com for breaking news, world news, and news about the economy
Keynesian economics is so outdated, that it has only one thing going for it. It works! That's why today's Republicans hate it so.
From Raw Story: Fox News host Mike Huckabee and Ted Nugent on Tuesday hatched a plan to take the conservative rocker's "world's greatest hunting dog" and "him loose on some Democrats" so they could get the "varmints" out of office.
Huckabee began his Tuesday interview with Nugent by asking about "Gonzo, the wonder Labrador Retriever."
"Nobody hunts more than the Nugent family," Nugent explained. "We literally hunt anywhere between 250 and 300 days a year. And you think Gonzo is good on ducks, you should see him on squirrels and doves and rabbits and woodcock and grouse. He really is a mystical, wonderful hunting dog."
"Well, maybe we ought to turn him loose on some Democrats and see if he can hunt them too," Huckabee suggested.
Now, where did Rev. Mike Huckabee, aka Upchuck Huck or Upchuckabee, get such a loving idea? From Republican Supply-side Jesus (the one they invented, not the real Jesus), of course.
From Robert Reich: 7 Lies
I think I've posted this before, but it Robert Reich didn't think we need to be reminded how to debunk these Republican lies, he would not have reposted it on his site today. I agree.
Cartoon: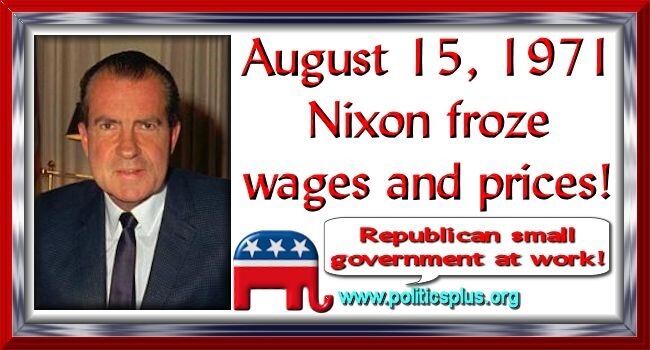 The commerce clause sure exists when they want to use it!