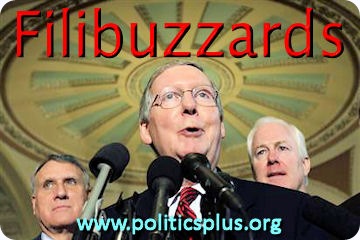 The senate is now voting on cloture for Richard Cordray, Barack Obama's nominee to head the CFPB, brain child of Elizabeth Warren to help protect you and I from criminal Banksters.  Republicans object ot the agency having any leadership at all, because they object to any obstacles to prevent criminal Banksters from preying on you and I.  Cloture requires sixty votes.  Without them, Reid has promised to invoke the Constitutional Option to change the Senate rules with respect to the filibuster of Presidential Nominees to the Executive Branch.  On the other hand, if cloture is achieved, we will wait for the next of the seven nominees Reid said must all pass.
The vote is still going on, but enough Republicans caved out of fear of the rule change to Cordray's nomination moves ahead to an up or down vote and is virtually certain to be confirmed.
The final vote was 71 – 29.  Finally getting Cordray through was a big win for Democrats.
Then came the bad news.  With victory in hand, Harry Reid humped a few Republican legs, whined, rolled over and played dead, making another deal with Bought Bitch Mitch and McConJob.  Republicans will confirm four more nominees.  Democrats will replace two.  Republicans will go right back to using the filibuster for obstruction.  Reid does not think that will happen.  He has a gentlemen's agreement, AGAIN.
Visit NBCNews.com for breaking news, world news, and news about the economy
Assuming that we hold the Senate, we need a new Majority Leader.  If Republicans take the Senate, you can be sure that they will change the rules the first time Democrats filibuster.