The struggle continues into day four tomorrow.  I'm writing early, I'm here.
jig Zone Puzzle:
Today's took me 3:05 (average 5:18).  To do it, click here.  How did you do?
Short Takes:
From TruthDig: You don't need me to tell you, but it's a whole lot tougher leading a garage band than being a superstar. What you might not have known is just how much harder.
If you want an example of growing inequality, try the rock 'n' roll industry. Between 1982 and 2003, the share of concert income taken home by the top 1 percent of performers more than doubled, rising from 26 percent to 56 percent. The top 5 percent collected almost 90 percent of all concert revenues…
Dang! I did not realize that I've been listening to InsaniTEA. 🙁
From Christian Science Monitor: At the adolescent-unfriendly hour of 7:10 on this rainy spring morning in tiny Loachapoka, Ala., classes won't start for another half hour in the public school. But already the science lab at Loachapoka High School is coming alive with the banter of 13 teens sloughing off backpacks and settling in to learn – not about chemistry or biology, but about faith…
Click through for a comprehensive and interesting article. I have no problem with using school facilities for religious purposes on the students' own time, if and only if, those facilities are equally available to every religion, including the atheist faith. Otherwise, this practice violates the Establishment Clause of the First Amendment.
From Salon.com: Failed Republican presidential candidate Herman Cain warned attendees at the annual Faith and Freedom Conference that America is headed toward communism and socialism, and called for supporters to "take our country back" in 2014.
"This train is running full speed down the tracks towards socialism and towards communism," Cain said, The Washington Post reports. "Yes, I said it. Before we stop it and reverse it, we got to slow it down. That's what we do in 2014."
Like most Republican Supply-side pseudo-Christians, Mr. 9-9-9 displays complete ignorance. Socialism and Communism are mutually exclusive. Under actual Communism, there is no state. It will have withered away, no longer needed. Under actual Socialism the government owns all the means of production. Neither comes even close to describing the Republican Welfare state handed down by the Bush Regime: Vulture Capitalism.
Cartoon: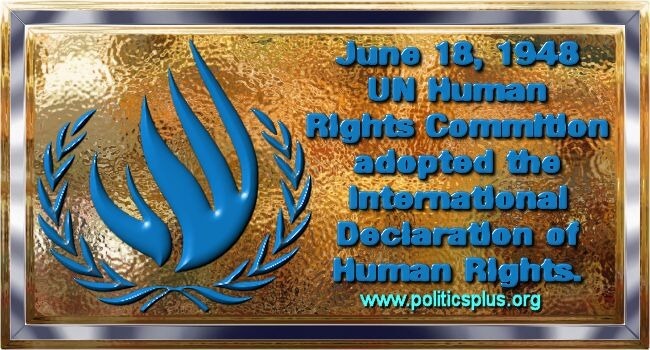 Republicans celebrate the day by counting how many they can violate.