I'm feeling slightly better, but yesterday, I sprained my wrist while cooking and can barely type.
Jig Zone Puzzle:
Today I gave up after 6:24 and did not finish (average 4:55).  To do it, click here.  How did you do?
Short Takes:
From Wired for Change: Over 300,000 of you have said it's time to #CancelTheSequester – and that's why we joined with Alan Grayson, the Other 98% and MoveOn to personally deliver your signatures *directly* to Speaker John Boehner's congressional office, telling him in no uncertain terms: the American people have had enough and want to end this sequester, period.
Click through to sign.
From NY Times: Republican leaders in Congress regularly denounce the 2010 Affordable Care Act and vow to block money to carry it out or even to repeal it. Those political attacks ignore the considerable benefits delivered to millions of people since the law's enactment three years ago Saturday. The main elements of the law do not kick in until Jan. 1, 2014, when many millions of uninsured people will gain coverage. Yet it has already thrown a lifeline to people at high risk of losing insurance or being uninsured, including young adults and people with chronic health problems, and it has made a start toward reforming the costly, dysfunctional American health care system.
Explaining the Republican denunciations is easy. Republicans lie. Click through for an excellent explanation.
From Think Progress: During a roundtable discussion on Friday, Fox News' Lou Dobbs agreed with a network contributor who argued that Americans need to access military-style assault weapons to protect themselves from an Iranian invasion. [emphasis added]
Dang! Folks I guarantee that you can use the Republican Ministry of Propaganda to fertilize your veggies!
Cartoon: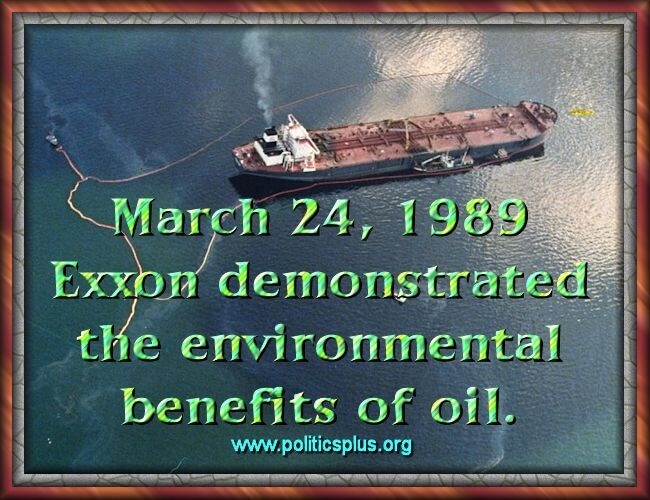 24 years later, Prince William Sound is still damaged.