I got lots of Zzzzzzzs yesterday.  I'm current with replies.  Tomorrow appears OK, but on Monday I have two routine medical appointments on one day, so expect no more than an Open Thread on Monday, if that.
Jig Zone Puzzle:
Today's took me 3:59 (average 4:38).  To do it, click here.  How did you do?
Short Takes:
From MoveOn: Reason #8493 Jon Stewart Is Pretty Much One Of The Smartest People On Television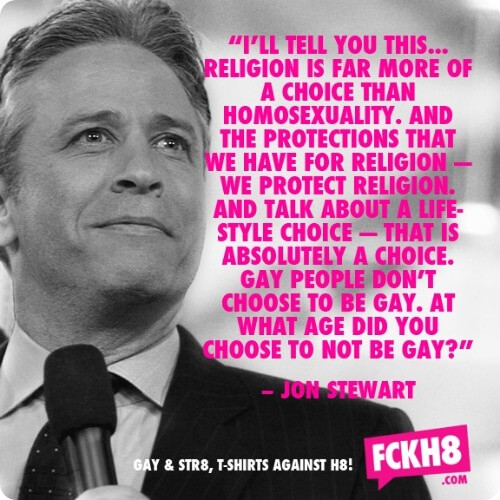 The irony here is that whether or not to hate IS a choice, just as it is a choice for the Republican Party to pander to those who are drowning in their own hatred.
From Click on Detroit: "Today, Governor Snyder has decided to unilaterally take over control of the City of Detroit from its democratically elected leaders. This is nothing but a hostile take-over; we would expect this from a CEO, but not from a Governor," said Michigan Democratic Party Chair, Lon Johnson.
There are real problems in Detroit, but we will only solve them with everyone at the table. We should trust in the democratic process. The process advocated by our Governor is one of subtraction – removing elected leaders, removing stakeholders, removing the voices of the people.
Herr Schneider is goose-stepping a great city into the clutches of fascism.
From YouTube: Why Obama is all wrong about the Jedi mind meld
First of all, there is no Jedi mind meld. It is a Vulcan mind meld. Obama is certainly no Vulcan. If he were, Republicans would accuse him of being an alien, demand to see his birth certificate, and call him a Muslim. Furthermore, Spock only had to mind meld with a Horta, and Hortas are FAR more human than Republican politicians.
Cartoon: