For the last three months Politics Plus has been very slow, so this is a good time to discuss the transition we have experienced in the last year.  We used to be an A list blog, one of the most influential political blogs in the world.  However three events, on top of each other, killed most of our exposure in one fell swoop.  First the BuzzFlash contribution site went dead.  Since they picked up most of our articles on their front page, and were recognized by Technorati, they were most responsible for putting us on the A list.  Second, Stumbleupon changed their format, and the new format is so bad that people abandoned it in droves.  Third Reddit changed their requirement for r/politics, so that instead of posting one outside article for every article from our blog, I now have to post ten.  We used to get many thousands of visitors from Stumbleupon and Reddit every month.  No more.  As a result we have fallen onto the B list, and barring unforeseen circumstances, I see no return to our glory days.  Nevertheless, I am content with our new role as a key advisor to a dedicated group of activists.  Because of that new roll, I'm changing a few things about our Monthly Reports, making them easier to produce.
Here is our latest summary: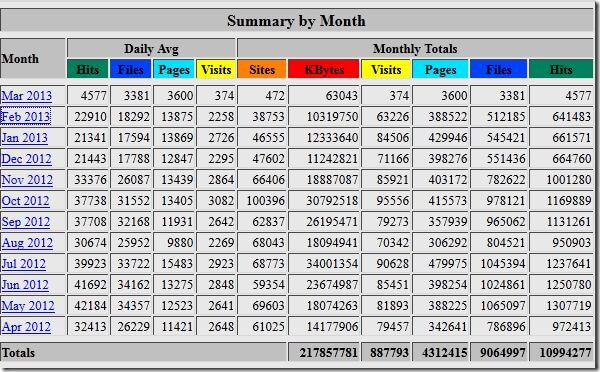 In the monthly totals, a Site is any website from which someone accessed our server, a Hit is every access attempt to our server, and a file is every access attempt to our server that returned data.  The difference between hits and files is from access attempts that were sent in error or damaged in transit and failed attempts by hackers, spammers, phishers, and Republicans to access the back end and take control of the site.
Here is our latest Clustrmap: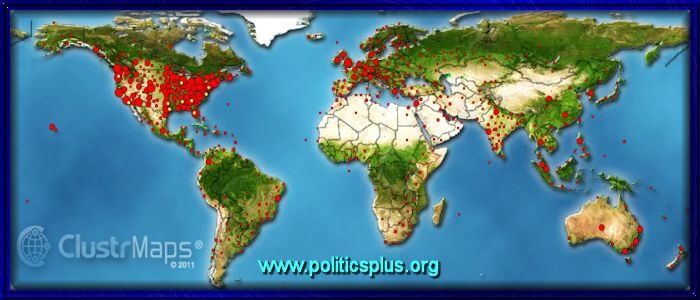 Our map is about to be archived for the year, co we'll be losing all our dots this month.
I will probably return to listing non-blog referrers like Care2 next month, when there are actually some numbers to report.
Here are our top 15 blog/news referrers
There are more than 15, because it was so slow that it only took a couple referrals to make the list.  Every time we link to their sites, it increases their ratings, so here's some linkey-love in return.  The best ways you can spread the message to others is to use the share button at the bottom of each article to list our articles on the the networking sites where you belong. Quote PP articles on your own blogs also helps.  The operative commandment here is "thou shalt steal."  We're on the same side here, and I encourage it.  Even if you want to repost a whole article, that's OK.  Just link back, please.  Also, feel free to swipe my graphics in the articles.  If they are labeled with our Politics Plus URL, they are my work.
Here are the top fifteen commenters for February.  I remembered and copied them off in time.  That's three months in a row!  I don't count, as I'm the resident big mouth, and I try to reply to every comment, except replies directed at someone else.  Those who leave their URLs in their comments, also get linkey-love here.
Lynn Squance (147)

Patty (84)

SoINeedAName (44)

Angelica (43)

Pat A (35)

Edith Belcher (28)

Rixar13 (27)

Phyllis (17)

Lee Evans (14)

Jim Phillips (13)

Tamara Hayes (7)

Gypsy (6)

Yvonne White (5)
We have 1,029,478 links on other websites.
Our Technorati rating is 119, B List, and they rate us as the 11,391st most influential blog in the world.
As of Midnight, March 1, we have 4,044 articles and 40,343 comments.
I recommend using your own avatar. Go to Gravatar.  Sign up using the email address you use to post comments here and upload the image you want to use.  Whenever you comment under that email address here or on any WordPress blog (several others too), that image will be your avatar.
Well, here we are.  As long as this nation is infested with Republican InsaniTEA, our work remains.  Thank you for everything you do.  Whatever success we may enjoy is your success.