I'm still running on a sleep deficit, because I spent much of yesterday helping my techno-phobic friend with Quicken. Nevertheless, I have three articles today. Tomorrow appears routine.
Jig Zone Puzzle:
Today's tool me 3:57 (average 5:07). To do it, click here. How did you do?
Short Takes:
From MoveOn: This Hidden Camera Footage Of A Gay Couple In Texas Will Shock You
Frankly, I am very pleasantly surprised at the reaction in Texas, but not that New Yorkers did not speak up.
From NY Times: In a deeply worrisome move, the Supreme Court on Tuesday agreed to hear a new campaign finance lawsuit that challenges long-established federal caps on the total amount an individual can contribute to federal campaigns in a two-year cycle. In a ruling last year, a special court in Washington correctly upheld those limits, which in some form have been included in federal law since 1974.
If the justices were to overturn that decision, it would be the first time that the court has struck down a contribution limit as unconstitutional. That would eliminate an essential tool in combating the corrupting effects of money in politics.
ARGH! I am troubled that the Fascist Five are about to ignore the Constitution and screw America with Citizens United, Jr. Money is NOT speech!
From CNN: With more than 20 months to go before the midterm congressional elections, incumbent Sen. Mitch McConnell's team is already attacking Democrats for not yet fielding a candidate to challenge the Senate minority leader.
Bought Bitch Mitch is scared, because 55% of Kentuckians disapprove of him, making him the most unpopular Senator in his/her own state.
Cartoon: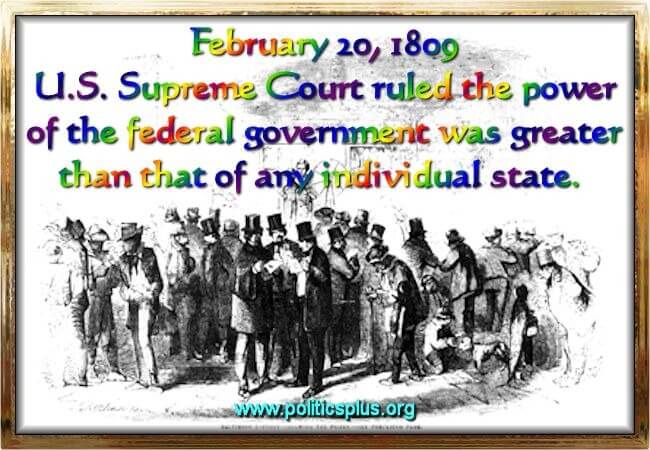 Shhhh! Don't tell the Republicans! They haven't learned this on only 203 years.