Yesterday was a zoo.  I had my computer corner broken down by 8:00 AM, and the repairman arrived at around 9:00 AM.  He started in the other apartment with a bad radiator, on the floor above mine and on the other side of the building.  I guess that apartment is badly infested with bugs, and the repairman freaked out.  He refused to do any work in the building and left.  I wish he had started with me, because the radiator is still not fixed, and I have no idea when a repairman will be coming to do it.  My computer corner is shaped like an L, and the radiator was at the intersection of the two tables.  When I put it back together, I changed it. so the radiator is at the end of the short table, so I can now provide access to it in ten minutes, without having to tear it down.  Needless to say, I am pooped, and this mess will likely set back my return for a few days.  I'm current with replies.
Jig-Zone Puzzles:
Yesterday's took me 3:37 (average 4:36).  To do it, click here.  Today's took me 4:44 (average 5:34).  To do it, click here.  How did you do?
Short Takes:
From NY Times: Senate Democratic and Republican leaders are nearing an agreement on new limits to the filibuster, an effort to speed action in the often-clogged chamber by prohibiting senators from using a common tactic to slow the legislative process. ..
…The changes will surely disappoint reformers who were pushing for more sweeping revisions to rein in the filibuster, once a rarely used legislative tool. It will not include, for instance, a requirement that senators be present on the Senate floor when they want to block a bill from coming to a vote, continuing the practice of allowing them to filibuster in absentia. And opponents would still have the opportunity to filibuster a final vote on any legislation, thwarting its passage without 60 votes.
If that damn leg-hound caves-in, I'm going to scream!
From MSNBC: Projection on Spending
Visit NBCNews.com for breaking news, world news, and news about the economy
As always, wastrel Republicans are projecting their own spending problem onto responsible Democrats. The lies and the blackmail come down to the Republican agenda to give our earned Social Security benefits to Wall Street, give our earned Medicare Benefits to Big Insurance, and convert Medicaid to a GOP governors' slush fund for millionaires. How then, would they pay for their excessive spending on billionaires? Their plan is to raise the taxes paid by the poor and middle classes.
From YouTube: Full Clinton-Paul Exchange from the Benghazi Hearing
The absurd conspiracy theory that Democrats are shipping arms from Libya to Turkey to give guns to Syrian terrorists, comes from serial liar, Andrew Breitfart. If idiot, son of idiot, were President, ice hockey would be the national sport in hell.
Cartoon: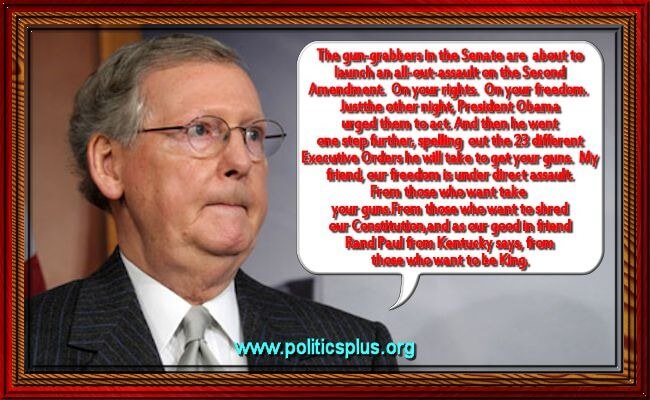 With his words, none of mine are needed. 
The gun-grabbers in the Senate are about to launch an all-out-assault on the Second Amendment. On your rights.  On your freedom.  Just the other night, President Obama urged them to act. And then he went one step further, spelling out the 23 different Executive Orders he will take to get your guns.  My friend  our freedom is under direct assault.  From those who want take your guns. From those who want to shred our Constitution, and as our good in friend Rand Paul from Kentucky says, from those who want to be King.