This article was written for Politics Plus by Lynn Squance.  Please join me in thanking her for excellent work.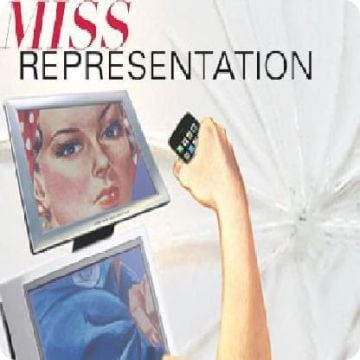 On the 08/01/13 Open Thread, TC`s MoveOn was about "Miss Representation", the portrayal of women by and in the media.  At that time, my comment was:
I have 3 words for this: misogynist bear scat! Who cares if Hilary Clinton doesn't wear makeup? Why is it so important that women look "just so" but men do not have to live up to the same standards?  3 words again: misogyny, double standard. Little men are afraid of the power of women. Real men are not. Damn I am glad I know some real men here!
I also said that I was going to try to see the documentary "Miss Representation" which was going to be aired at the University of BC on 17/01/13, and I did. The media helps to form our culture by the messages that it transmits, but also by how it transmits them, or how it frames them.  The media, overtly and subliminally, is shaping the brains, emotions and actions of viewers. Our prime value, as displayed in the media in many ways, is BEAUTY.  Beauty trumps accomplishments and intelligence.  And as a result, the old adage of 'sex sells' becomes more obvious. Interviews with high school teens, Kate Courric, Rachel Maddow, Jane Fonda and many less well known people are throughout the presentation.  Clearly, girls want role models that are smart, strong and accomplished. An interesting statistic:
53% of girls at age 13 years worry about their body image; 78% of girls at age 18 years worry about their body image; and 65% of women have an eating disorder.
The media message getting out to girls and women is that they need to be something they aren't, and the media isn't too.  The number of almost anorexic super models is staggering.  Even more though, the amount of photoshopping of models to present the "perfect" look is astounding.  What is worse, is this is the image being bought into by too many people — women and men.  Women are being objectivised and as such are less engaged in the things of life that really matter.  For example, women in the US are less likely to go into politics  than other countries such as Cuba, Iraq, and China (PDR).  But those same less engaged women spend $12 – $15,000/ year on beauty products.  Talk about priorities! At a number of times throughout the presentation, this being one, my mind turned to the  Republican/Teabaggers and their war on women.  Although there was no political message as such in the documentary. nonetheless, the message was there. An interesting, albeit disgusting fact, in some states, domestic abuse can and is being considered as a pre-existing condition by some health insurance companies, and as such health insurance coverage is being denied to women.  I was almost struct dumb by this.  No mention of which states as I recall. When it comes to how people see women, women are hardest on other women.  You'd think that women would support other women, but it was found that wasn't generally the case.  Could this explain partially why there are still women voting in Republican/Teabaggers despite the war on women? In the US, girls/women in their teens, 20s and 30s make up 32% of the US population.  But when it comes to TV characters, 78% are young women.  That surely shows the amount of influence daily that is thrown at young women.  I remember thinking that if I had a daughter, the TV would be, if there even was a TV, set to National Geographic and the Discovery Channel.  But it isn't limited to TV.  Just look at the portrayal of women in movies.  Even the 'strong' ones like Cat Woman, Wonder Woman etc are sexualised in skimpy, form fitting costumes.  If you had men in 'skimpy, form fitting costumes', their blood supply to their brains would be cut off. One male student said that what he sees is women putting men down, but really what they should be doing is trying to lift herself up.  And I thought, what a great idea.  Too much energy is used in criticism of others.  What if that energy were used instead to lift up, to inspire confidence, to try to change perceptions? When the US entered WWII at the end of 1941, six million women went into the manufacturing sector building just about everything including airplanes.  But 2 days after the end of the war, without so much as a 'by your leave', 800,000 were fired and sent back to their domestic duties. There are a number of ideas that were left to think about:
What part do I play in this culture? Why is the media not held accountable by legislators? Men are emotionally constipated.
And there were two things that I felt noteworthy from the discussion (I have to say that a lot of the discussion was inaudible as there were no microphones and there were over 100 people in the lecture hall):
NEVER underestimate the power of your own voice! Be gender blind, colour blind etc.
It should be noted that the film has a distinctly US perspective, not a North American perspective.  This does not mean that Canada is not victim to the same shameful attitudes, but during the discussion afterwards, many people, including the panel, noted that Canada has advanced further forward than the US. Here is a link to the documentary on the internet.  I asked TC to check if this url worked in the US and it does.  But one problem exists — if you already have Netflix, you may not be able to get it.  You may have to get the DVD when it is available.  It is worth watching though and your perspective will assuredly be different from mine.  Here is the link. http://www.yidio.com/movie/miss-representation/35923?utm_source=Google&utm_medium=Search&utm_campaign=miss-representation-MOVIE-CANADA-CUSTOMCMPGNppca&utm_term=miss%20representation&sf_campaign=CA+Movies+%3Csearch%3E&sf_adgroup=miss-representation-MOVIE-CANADA&sf_adid=14011685891&sf_keyword=miss%20representation&sf_type=b&sf_placement=&gclid=CI2vxa698bQCFW6CQgodlRYAXQ