Sadly I have no good news, as I still feel horrid.  I'm current with replies.  Soon, I hope.
Jig Zone Puzzle:
Today's took me 3:59 (average 4:15).  To do it, click here.  How did you do?
Short Takes:
From MoveOn: What Dr. Martin Luther King, Jr. Warned Us About Decades Ago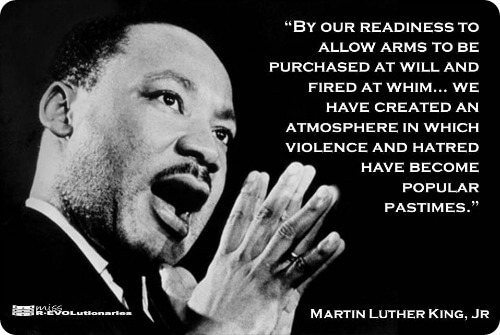 He could not have been more correct. The NRA is trying to hijack his day, but they cannot hijack his integrity, because they have none.
From NY Times: It's hard to turn on your TV or read an editorial page these days without encountering someone declaring, with an air of great seriousness, that excessive spending and the resulting budget deficit is our biggest problem. Such declarations are rarely accompanied by any argument about why we should believe this; it's supposed to be part of what everyone knows.
This is, however, a case in which what everyone knows just ain't so. The budget deficit isn't our biggest problem, by a long shot. Furthermore, it's a problem that is already, to a large degree, solved. The medium-term budget outlook isn't great, but it's not terrible either — and the long-term outlook gets much more attention than it should.
It's true that right now we have a large federal budget deficit. But that deficit is mainly the result of a depressed economy — and you're actually supposed to run deficits in a depressed economy to help support overall demand. The deficit will come down as the economy recovers: Revenue will rise while some categories of spending, such as unemployment benefits, will fall. Indeed, that's already happening. (And similar things are happening at the state and local levels — for example, California appears to be back in budget surplus.)
Click through for the rest of this excellent Paul Krugman editorial. Republican economists also know this is true, but when benefits, for which you have paid your whole life, are given back to you, that conflicts with Republican priorities. They want the benefits, for which you have paid your whole life, to be given to a billionaire.
From MSNBC: Rachel Maddow reported on how Republicans intend to steal the White House.
Visit NBCNews.com for breaking news, world news, and news about the economy
This 'heads they win, tails we lose' scam is the latest Republican attempt to create a permanent one-party, totalitarian, Republican regime in which elections no longer matter. For Rachel's documentation, click here. The best defense against this, in my opinion, is to move to a national popular vote for President.
Cartoon: