Unfortunately, I'm still down.  I'm current with replies.  Maybe tomorrow.
Jig Zone Puzzle:
Today's took me 3:35 (average 4:28).  To do it, click here.  How did you do?
Short Takes:
From MoveOn: REMINDER: This Is Why We Voted For Obama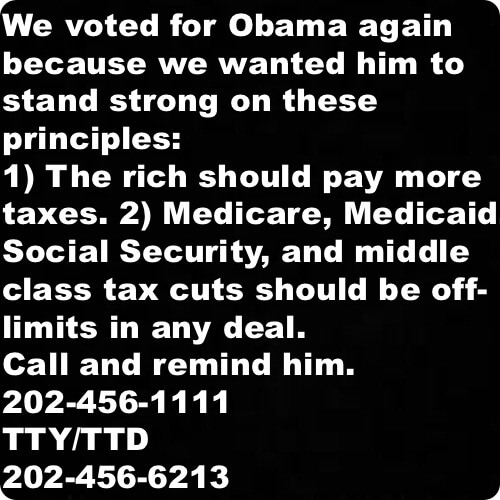 Switching to chained CPI will not reduce the deficit or the debt by a single penny.  Therefore it should not even be on the table, so I made the call. How about you?
From NY Times: An independent inquiry into the attack on the United States diplomatic mission in Libya that killed four Americans on Sept. 11 sharply criticized the State Department for a lack of seasoned security personnel and for relying on untested local militias to safeguard the compound, according to a report by the panel made public on Tuesday night.
The investigation into the attack on the diplomatic mission and the C.I.A. annex in Benghazi that resulted in the deaths of Ambassador J. Christopher Stevens and three other Americans also faulted State Department officials in Washington for ignoring requests from the American Embassy in Tripoli for more guards for the mission and for failing to make sufficient safety upgrades.
The panel also said American intelligence officials had relied too much on specific warnings of imminent attacks, which they did not have in the case of Benghazi, rather than basing assessments more broadly on a deteriorating security environment. By this spring, Benghazi, a hotbed of militant activity in eastern Libya, had experienced a string of assassinations, an attack on a British envoy's motorcade and the explosion of a bomb outside the American Mission.
Finally, the report blamed two major State Department bureaus — Diplomatic Security and Near Eastern Affairs — for failing to coordinate and plan adequate security. The panel also determined that a number of officials had shown poor leadership, but they were not identified in the unclassified version of the report that was released.
Sadly, this report could not be better ammunition for Republicans to use against Hillary Clinton in the event of a 2016 run for the Presidency.  Nevertheless, Hillary has not even approached Republican levels of incompetence in national security matters.
From MSNBC: Rewriting the NRA's stance on gun violence
Visit NBCNews.com for breaking news, world news, and news about the economy
I could not have said it better. There are no words that can wash the blood from the NRA's hands.  However, I would add the Republican politicians that continue to place a higher value on gun industry profit than on the lives of American citizens.
Cartoon: