I'm still down.  I'm current with replies.  Maybe tomorrow.
Special Note:
My heart goes out to the families and loved ones of the Sandy Hook victims.  Please join me in thoughts and prayers for comfort in their time of grief.
I second Barack Obama's call for meaningful action to prevent such tragedies.  Rachel Maddow discussed the need for gun control with Carolyn McCarthy (D-NY)
Visit NBCNews.com for breaking news, world news, and news about the economy
The list of these incidents boggles the mind and they seen almost unique to the US. The Republican culture of hate-based violence has to be a major contributor, but still, tighter gun control laws do reduce gun violence. It is not too soon to talk about gun laws. Furthermore, the NRA represents the arms industry, not their own membership, so NRA positions must be considered antithetical to America's best interest.  Contrary to Republican lies, this is about sensible regulation, not taking away guns from law-abiding citizens.
Jig Zone Puzzle:
Today's took me 4:07 (average 5:03) To do it, click here.  How did you do?
Short Takes:
From MoveOn: The US Constitution Has A HUGE Flaw, And Justice Ginsburg Is Not Impressed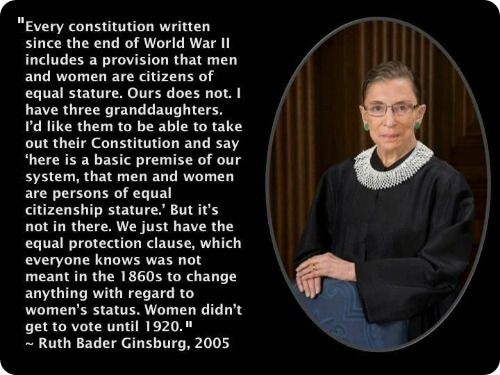 Needless to say, the opposition to the ERA comes from Republicans.
From NY Times: The Obama administration said Friday that more than half the states had rejected its pleas to set up their own health insurance exchanges, dealing a setback to President Obama's hopes that Republicans would join a White House campaign to provide health insurance to all Americans.
Friday was the deadline for states to notify the federal government of their plans, and administration officials had been hoping that Mr. Obama's re-election would overcome resistance to the new health care law.
Federal officials said they knew of 17 states that intended to run their own exchanges, as Congress intended.
It strikes me as completely hypocritical that these Republican Governors, whose sniveling about perceived federal intrusion into issues they consider State rights never ends, should grant so much authority over their citizens' health care to the federal government.
From Gallup: Thirty-two percent of Americans say they have had to put off medical care for themselves or their family in the past year due to the cost — the highest percentage since Gallup started tracking this annually in 2001. The percentage reporting they are putting treatment off is up significantly from the 19% found 12 years ago.
That's a terrible place to be. I know, because I was there for several years, and still would be, were it not for Medicare.
Cartoon: