OGIM!  I don't have much going on today, but the fiscal cliff dominates political news, so a lot of research bore scant results.  I'm current with replies.  Tomorrow appears routine.
Jig Zone Puzzle:
Today's took me 3:45 (average 4:51).  To do it, click here.  How did you do?
Religious Ecstasy:

In the process, the Broncos clinched the AFC West.
Short Takes:
From MoveOn: A Message For President Obama From The Late President Kennedy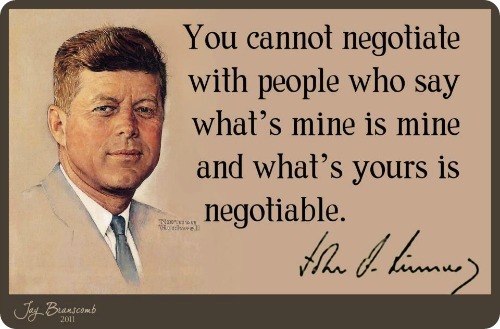 I see he had his own trouble with InsaniTEA.
From NY Times: Mr. Obama, scarred by failed negotiations in his first term and emboldened by a clear if close election to a second, has emerged as a different kind of negotiator in the past week or two, sticking to the liberal line and frustrating Republicans on the other side of the bargaining table.
Disciplined and unyielding, he argues for raising taxes on the wealthy while offering nothing new to rein in spending and overhaul entitlement programs beyond what was on the table last year. Until Republicans offer their own new plan, Mr. Obama will not alter his.
In his first term he did offer plans heavy with compromise, and every time he did, Republicans came back with new demands even more unreasonable that what they had originally said they wanted. If they are frustrated that Obama has learned not to play that game, good.
From McClatchy DC: Egypt's highest court indefinitely postponed a highly anticipated ruling Sunday, leaving the nation's upcoming referendum on the new constitution in a state of uncertainty and putting off for now a direct confrontation with President Mohammed Morsi over his claim of judicial immunity.
The judges of the Supreme Constitutional Court claimed that they could not convene because pro-Morsi demonstrators who'd gathered in front of the court's building had threatened them and blocked their entry.
Morsi has effectively locked the judges out of the court, while allocating more powers to himself than those abused by Mubarak. This does not bode well for the future of Egypt.
Cartoon: