Here are the results of our Presidential Preference Poll.  It is not authoritative, because the demographics of Politics Plus readers and visitors are not filtered to conform to national demographics.  Nevertheless, the poll contained no internal bias.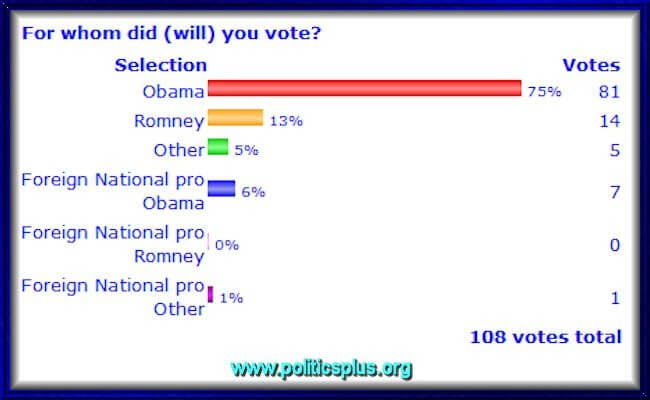 And here are your comments.
Posted by Patty on November 7, 2012 at 9:48 am. 

 

Looks like the Nation followed us here.

 

 

Posted by Terrie W. on November 6, 2012 at 12:17 pm. 

 

I and my husband voted on the first day of early voting in my state (22nd) and we both voted for President Obama and Veep Joe Biden! They need 4 more years to really get us forward. A vote for the other two fools is a vote for Fascism. Don't know what that is? Use your brain cells and look it up!

 

 

 

Posted by Tabitha125 on November 6, 2012 at 11:37 am. 

 

I voted for Obama again cause he did something for my family! My kids can stay on our insurance till they are 26 yrs old. We need 4 more years of moving forward and i know he can do it..

 

Posted by Tom Harmon on November 4, 2012 at 1:40 pm. 

 

I early voted in Ohio, and I voted for my democratic president Barrack Obama, I support him totally and so did my wife.

 

Posted by Angelica on November 4, 2012 at 8:37 am. 

 

I proudly voted for Obama on Friday morning. It was a great day.

 

 

Posted by Patty on November 2, 2012 at 4:23 am. 

 

My vote is going to Barack Obama and Joe Biden on Tuesday, Nov. 6, 2012. My House and Senate votes will be for the Democrat also.

Kirsten Gillibrand is seeking re-election in the Senate and a newcomber named Dan Lamb is running for the newly re-districted seat against the RepublicanT Richard Hanna. He voted party line his last 2 years in my old district and we want him gone like the wind.

 

Posted by Lynn Squance on November 1, 2012 at 3:14 am. 

 

Perhaps you should allow all Canadians to vote. With 66% voting for Mr Obama, 71% of women, that would be good! Ne c'est pas!?!

http://www.theglobeandmail.com/news/world/us-election/two-thirds-of-canadians-would-re-elect-president-obama/article4723889/

 

Posted by John Dasef in reply to Lynn Squance on November 1, 2012 at 1:26 pm. 

 

That would be very good indeed, but might require reciprocation in kind. I don't think you'd want the baggers voting in your election.

 

Posted by [email protected] on October 31, 2012 at 5:44 pm. 

 

Already voted for Obama, wife too…
I'll let you guess how I voted, as if you don't know.  I found it interesting that our foreign participants outperformed our US ones, since none of them were sufficiently depraved to support Lord Willard.
Our new poll is exceptionally critical.  Vote Now.